Loading Cart...
Call Us Today - 800-452-8909
Carestream Panoramic Films - TMG-15
Carestream Panoramic Films - TMG-15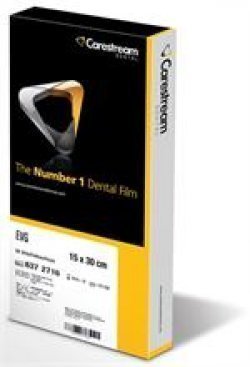 T-Mat G. (5 x 12)
50 Sheets
Carestream T-MAT Film uses the same unique Carestream T-GRAIN technology found in KODAK EKTAVISION Extraoral Imaging System. And when Carestream T-MAT Films are used in combination with Carestream LANEX Screens, exposure times are reduced, and system speed is increased over that of conventional blue light emitting systems. In addition, the resulting image detail is excellent.
• Enhanced-contrast, green-sensitive film designed for use with Carestream LANEX Screens
• Provides excellent detail at up to one-half the exposure of conventional (200 speed) blue-sensitive film/screen combinations
• Designed for automatic processing, but may also be processed manually
• System speed of 400 when used with Carestream LANEX Regular Screens; system speed of 250 when used with KODAK LANEX Medium Screens
Applications: cephalometric, TMJ, and panoramic radiography.
TMG-15 (50ct)
[ K104-186-9090 ]