Loading Cart...
Call Us Today - 800-452-8909
Simplique Self-Adhesive Resin Cement
Simplique Self-Adhesive Resin Cement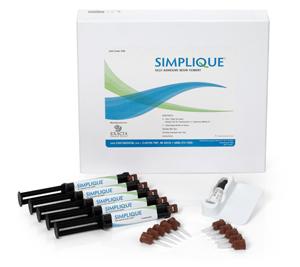 Simplique is designed to provide a simple technique for the cementation of a variety of restorations including crowns, bridges, inlays, onlays, and posts. Forget the tedious steps of etching, priming, bonding, and mixing; just simply apply Simplique from its automated syringe. Simplique will form a strong bond to the restoration and both dentin and enamel to ensure a proper bond. With no etching, post op sensitivity is reduced, as well as the chair time for the procedure.
Dual-Cure

Easy Auto-Mix Syringes

Contains Fluoride

Three Different Shades
Working Characteristics:
Mode of Cure: Dual cure

Method of Mixing: Auto-Mix

Mixing Ratio (base:catalyst) 1:1

Mixing Time - None (Auto-mix)

Working Time (Intra-oral) 1 - 1.5 minutes

Intra-oral Setting Time (from initial mix) 3.5 - 4 minutes
Indications:
Cementation of composite, cementable all-ceramic, PFM and alloy crowns, bridges, inlays, and onlays.

Cementation of fiber reinforced composite posts.

Cementation of titanium, titanium alloy, stainless steel and zirconia posts.
Starter Kit Includes:
5 - 4ml Syringes

3 - A2 Syringes

1 White Opaque Syringe

1 Translucent Syringe

1 - 3ml Bottle of Silane

40 Auto-mix Tips

10 Intra Oral Tips
Simplique Refill Shade A2 (1-4ML + Tips)
[ E081-SIM-A2 ]
Simplique Refill Shade White, (1-4ML + Tips)
[ E082-SIM-WH ]
Simplique Refill Shade Translucent, (1-4ML + Tips)
[ E083-SIM-TRANS ]
Simplique Starter Kit
[ E080-SIM ]