Loading Cart...
Call Us Today - 800-452-8909
Vantage ABI
Simplifying the Diagnosis of P.A.D.
The Vantage ABI is an innovative system with a cuff-based technology for performing the ankle-brachial index (ABI) exam to assist in the diagnosis of peripheral arterial disease (P.A.D.). The Vantage ABI provides accurate determination of the ABI across the full range of P.A.D. Striving to provide new technologies to better serve the needs of health care providers and patients, Summit Doppler developed the Vantage ABI.

This innovative cuff-based system uses Digital Fourier Oscillometric or DFO waveform analysis, which Summit Doppler co-invented with researchers from the Cleveland Clinic where the technology was clinically validated. This new technology is a significant improvement in ankle and pressure determination and P.A.D. assessment over traditional forms of oscillometric ankle pressure estimation. The Vantage ABI is well suited for the ABI exam. The system compares the blood pressures at the ankles with the higher of the two arm pressures and estimates the systolic blood pressure for each limb. A significantly reduced ankle pressure results in a low (<0.9) ABI value, indicating P.A.D.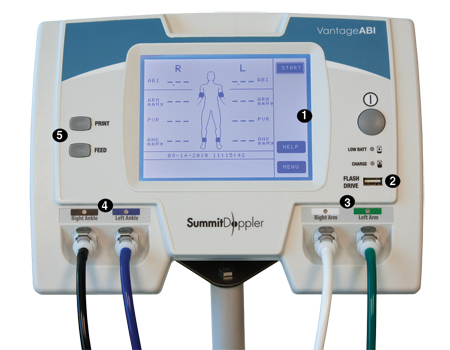 Vantage Package Includes:
Built-in Printer with Adhesive-Backed Label Paper
Convenient Roll-Stand and Storage Basket
PC Download Software
USB Memory Stick
10 cm Cuffs (2)
12 cm Cuffs (2)
4 Connector Hoses
Training Video
ABI Chart
User Manual
Power Supply (+7VDC) & Cable


Training:
Introduction & Product Overview
Configuring the System
The Standard / Supine ABI Exam
Obtaining Pressures & Waveforms Manually
ABI Results & Waveform Analysis
Exam Management
Vantage Report Software
Conclusion
| | | |
| --- | --- | --- |
| | Call for pricing 800-452-8909 | |
Description
QUICK AND EASY ABI EXAMS
The Vantage ABI has everything needed to conduct fast and accurate ABI exams, including a graphic display with convenient touch-screen to navigate the system, an optional roll-stand with storage basket,
a USB memory stick for data transfer and storage, four blood pressure cuffs and specific models have a built-in printer for printing ankle waveforms on adhesive-backed label paper. The Vantage ABI is quick and easy to use. After the cuffs are wrapped and the patient rests, with one touch, the entire ABI exam takes just 3 minutes to complete!
P.A.D. – EARLY DETECTION IS KEY
P.A.D. is a common condition that affects 8 to 12 million people in the U.S. every year.1 It is characterized by the narrowing of the arteries in the legs due to atherosclerosis. Most common among diabetics
and older adults, P.A.D. is under-diagnosed and under-treated, resulting in many patients at high-risk for heart attack, stroke, leg amputation and even death. Annual testing of patients at risk is recommended by national health organizations. Early detection of P.A.D. is the key to preventing these severe cardiovascular events and the ABI exam is a common test for diagnosing P.A.D.
Undetected P.A.D. is associated with the following health issues:
• 2 to 3 fold increase in mortality
• 2 to 6 fold increase in heart attack, stroke, amputation and death
• Severe decline in quality of life
• Leg amputation (150,000 annually)2
P.A.D.
is more common than heart disease, cancer and stroke. Most people who have the disease may not have symptoms. In fact, less than 30% of P.A.D. patients have symptoms.1 If untreated, P.A.D. can lead to critical limb ischemia (CLI) causing gangrene, resulting in possible leg amputations. The most common symptom is claudication - pain or cramping in the legs that occurs when walking or exercising and usually subsides when at rest. Too often, claudication is misinterpreted as normal aging or arthritis pain.
If a patient is experiencing claudication, it is important to address it quickly and determine if the pain is due to P.A.D.
WHAT ARE THE RISK FACTORS AND SYMPTOMS?
• 70+ years of age • Smokers 50+ years of age • Diabetics 50+ years of age • Diabetics less than 50 years of age with
1 or more risk factors (e.g. smoking) • Abnormal pulses during exam • Claudication in the leg • Critical limb ischemia (CLI)
OUR COMMITMENT TO CUSTOMERS
Summit Doppler Systems brings years of experience engineering high quality, non-invasive diagnostic products. Customer satisfaction is our highest priority and we stand behind all of our products with a full warranty and guaranteed service. With continuous research and development, we are dedicated to providing new technologies to better serve the needs of health care providers and their patients.
SAMPLE REPORT