Loading Cart...
Call Us Today - 800-452-8909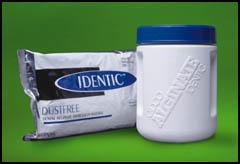 Excellent stone surface, unsurpassed smoothness and fine detail! Fast set has a 30-45 second mix time and a 1 minute 30 second working time. Stone models may be separated after 30 minutes. Easy mixing full strength alginate, dust-free, anti-microbial and pleasant tasting. Packaged in 1lb. poly-aluminum pouches to increase shelf life. (Cinnamon scented).
For professional use only.

This product cannot be purchased for personal or home use.
8 lb. value pack fast set (includes 8 1 lb. bags, 1 canister, 1 powder scoop, and 1 water vial.
[ 795-27477 ]
1 lb. bag of fast set, 1 canister, 1 powder scoop, and 1 water vial
[ 794-27473 ]