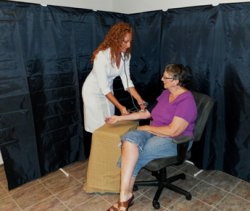 Corporate wellness programs are essential for businesses looking to improve employee productivity, lower absenteeism and control insurance costs. A big part of any complete corporate wellness program is employee screening. For proper employee testing, portable privacy screens are a must!
A portable privacy screen, also known as a portawall, provides a discrete and comfortable environment for corporate wellness screening. Interested in purchasing a portable privacy screen?
New Line Medical provides portawalls and other corporate screening solutions. Call 800-452-8909 or visit our Portable Privacy Screen page for more information.