Loading Cart...
Call Us Today - 800-452-8909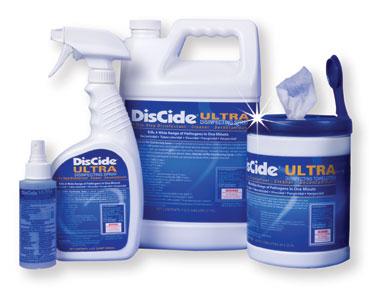 DisCide

ULTRA is the only one-step hospital-level disinfectant that kills microorganisms such as TB, Hepatitis B, Hepatitis C, MRSA, VRE, RSV, Avian Influenza A, Influenza A, Adenovirus, Herpes 2, HIV-1
Coronavirus, Pseudomonas aeruginosa, Salmonella, Staph, E. coli, and Athlete's Foot Fungus
IN ONE MINUTE

.
Discide ULTRA reduces the risk of infection and cross-contamination with its patented auaternary formula. DisCide is available in towelettes & spray. The formula is non-corrosive and non-staining and leaves behind a pleasant herbal scent with no unsightly residue. DisCide is EPA registered and meets the disinfection requirements of OSHA's Bloodborne Pathogen Standard.
DisCide® Ultra Towelettes - NEW Kill Claims
Burkholderia cepacia

(ATCC #25416), 1 minute

Campylobacter jejuni

(ATCC #29428), 1 minute

Escherichia coli

0157:H7 (ATCC #35150), 1 minute

Vaccinia Virus (ATCC VR-119, strain WR), 1 minute

DisCide® Ultra Spray - NEW Kill Claims
Burkholderia cepacia

(ACC #25416), 1 minute

Campylobacter jejuni

(ATCC #29428), 1 minute

Escherichia coli

0157:H7 (ATCC #35150), 1 minute

Klebsiella pneumoniae

(ATCC #4352), 1 minute

Multi-drug Resistant

Acinetobacter baumannii

(ATCC #19606), 1 minute

Vaccinia Virus

(ATCC VR-119, strain WR), 1 minute
Towelettes Lrg. (160 ct.)
[ 770-60DIS ]
Towelettes X-Lrg. (60 ct.)
[ 771-10DIS ]
(Spray) (1qt. Bottle)
[ 772-3565Q ]
1 Gallon Refill
[ 773-3565G ]