Loading Cart...
Call Us Today - 800-452-8909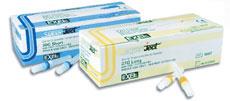 Features
• Orient your needle quickly with the NEW Red Bevel Indicator.
• Years of exacting experience in the production of hypodermic needles have been applied to the production of dental needles. Virtually painless, atraumatic, and perfectly sharp to give maximum patient comfort.
• EXEL Dental Needle production is computer controlled in all processes from manufacture to inspection. In addition, every needle passes an optical inspection.
• The cannula is siliconized through a special treatment.
• EXEL needles are sterilized by Ethylene Oxide and their sterility is guaranteed by testing every production lot prior to release.
• EXEL Dental Needles and boxes are color-coded for easier identification of suitable needle and gauge.
• Each needle is individually packaged, sterilized, and ready for immediate use.
• Self-tapping ribs placed on the outside of the hub, and inside screws make for ease of use.
• Larger cannula lumen (.0055")
100 Units Per Box
Exel Dental Needles (27G Long) (100ct)
[ 671-26557-27GL ]
Exel Dental Needles (30G Short) (100ct)
[ 674-26555-30GS ]
Exel Dental Needles (30 Long) (100ct)
[ 673-26562-30GL ]