Loading Cart...
Call Us Today - 800-452-8909
OmniTrust - Nitrile 201 Series
OmniTrust - Nitrile 201 Series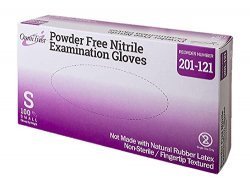 You will find the OmniTrust #201 Series Nitrile Powder Free Examination Glove to be soft, stretchy and comfortable to wear with the comparable strength and protection of a regular nitrile glove.
The glove maintains its natural durability for easy donning and improved elasticity. In addition, the textured fingers allow for excellent grip control and maximum ease of use with delicate instruments, making the #201 glove the perfect choice for physicians, dentists and veterinarians alike.
Features/Benefits:
Not Made With Natural Rubber Latex

Textured Fingers for Tactile Sensitivity

Comfortable, Soft and Forms Like a Second Skin

Ambidextrous, Beaded Cuff, Single Use Only
100 Gloves per box
(10 boxes per case)
OmniTrust - Nitrile 201 Series Small
[ 375-201-121 ]
OmniTrust - Nitrile 201 Series Medium
[ 376-201-122 ]
OmniTrust - Nitrile 201 Series Large
[ 377-201-123 ]
OmniTrust - Nitrile 201 Series X-Large
[ 378-201-124 ]