Loading Cart...
Call Us Today - 800-452-8909
Dynamic Disposables Eyewear
Dynamic Disposables Eyewear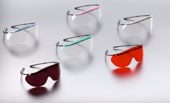 Within the range of disposable eyewear offerings - there is no equal! These innovative products offer exceptional protection, functionality, style and value! Featuring an ergonomically engineered frame that fits flush against the forehead and a full "one-piece" wraparound lens, these "featherlight" eyewear are the answer to all of your eye splash protection needs. A patented attachment system meets the OSHA ("NO HOLES") standard and makes shield changing quick and easy.
Price Each
Replacement Frames (10 pk)
[ 435-3901 ]
Replacement Lens Clear (25 pk)
[ 427-3903 ]
Office Pk. (10 fm, 20 lens, 1 cord)
[ 433-3900 ]
Replacement Lens Gray (25 pk)
[ 428-3905 ]
Replacement Lens Bonding (10 pk)
[ 429-3906 ]
Replacement Lens Clear (100 pk)
[ 426-3902 ]
Value Pk. (25 fm, 100 lens, 5 cords)
[ 434-3908 ]