Loading Cart...
Call Us Today - 800-452-8909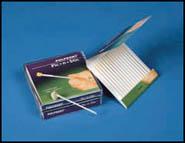 Pic-N-Stic is a 2 1/2" long plastic stick, 2mm in diameter, with an adhesive tip at one end. It easily picks up and places those small objects that fingers simply were not made to handle, and it is also used to pass objects from one person to another. Use Pic-N-Stick as a handle for crowns, inlays, veneers, bands, brackets, files, reamers, clasps, precision attachments, implant screws and numerous other objects.
For professional use only.

This product cannot be purchased for personal or home use.
Pulpdent Pic-N-Stic
[ 577-PIC ]