Loading Cart...
Call Us Today - 800-452-8909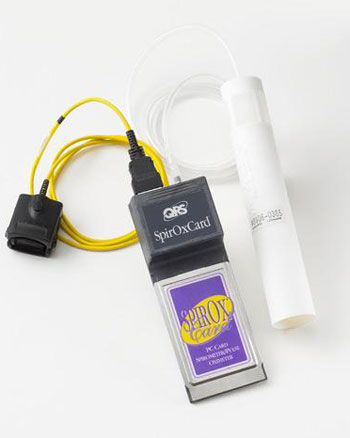 SpirOxCard PC Card Spirometer/Pulse Oximeter with PC with Windows HPC/PPC ?Pocket Medic? and Windows 98/ME/2000/XP ?Office Medic? software. Includes FVC, Flow Volume Lop, pre/post testing, MVV, SVC, narrative interpretation for spirometry; real-time display of SP02%, spot check or continuous recording of data for oximetry, one reusable adult fingertip sensor, 2 disposable mouthpieces, 2 pressure tubes, user?s manual, 3-year limited warranty (90-day warranty on fingertip sensor).
For professional use only.

This product cannot be purchased for personal or home use.
SpirOxCard Spirometer
[ Q150-Z-7000-1200 ]