Loading Cart...
Call Us Today - 800-452-8909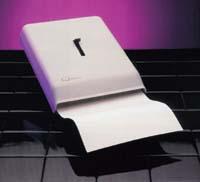 Qtowels are the latest concept in paper hand towels and hand towel dispensing. Qtowels are dispensed flat, one at a time with just the touch of a finger - no more tearing, tugging, cranking or unfolding. Extra large, super absorbent and very economical, one Qtowel has the soak-up power to thoroughly dry both hands. Does any clean-up job better.
Dispensers sold individually.
1500 Towels per case
Dispenser (Bone)
[ A391-1510BN ]
Dispenser (Lt. Grey)
[ A392-1510LG ]
Dispenser (Teal Green)
[ A394-1510TG ]
Dispenser (WGD Blue)
[ A393-1510WB ]
Dispenser (White)
[ A390-1510WH ]
(Towels-white)
[ 757-1500 ]