Loading Cart...
Call Us Today - 800-452-8909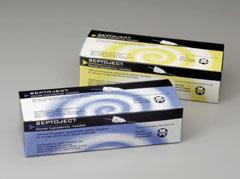 Introducing the NEW Septoject needle with bevel indicator. Redesigned to help you perform at your best.
It has all the marks of a dentist-friendly needle. With a new and improved design to enhance your control. Let the bevel indicator show you the way.
You know that small changes can make big differences in how smoothly your procedure goes. Finding the bevel is now one less thing you have to worry about. Proper bevel orientation helps you achieve better anesthesia and helps you get on your patient's good side
100 Units Per Box
27G Short (100ct)
[ 665-01-N1271 ]
27G Long (100ct)
[ 666-01-N1272 ]
30G Ex-Short (100ct)
[ 667-01-N1300 ]
30G Short (100ct)
[ 668-01-N1301 ]