Loading Cart...
Call Us Today - 800-452-8909
Accustrip Value+ Strep A Rapid Test (25ct)
Accustrip Value+ Strep A Rapid Test (25ct)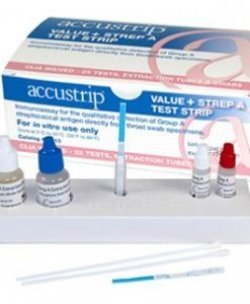 For medical professional use only.

This product cannot be purchased for personal or home use

Kit includes 25 test packs, 25 sterile throat swabs, extraction reagent, positive control, and negative control.
The Accustrip® Strep A Value+ Test Strip is a lateral flow, one-step immunoassay for the rapid, qualitative detection of Group A Streptococcal antigen from throat swabs. The test is intended for use as an aid in the diagnosis of Group A Streptococcal infection.
Rapid Strep A antigen test.
Test results in 5 minutes.
CLIA complexity : WAIVED
Dipstick format.
Kit stores at room temperature.
Group A streptococcus is one of the most significant human pathogens causing acute pharyngitis, tonsillitis, impetigo, and scarlet fever. It is very important to differentiate streptococcal infection from other etiologic agents (e.g., viral, mycoplasmal, or chlamydial) so that appropriate therapy may be initiated. Classical methods for identification require 18–48 hours culture time for throat swab specimens or other exudates to produce results showing bacitracin susceptible beta-hemolytic streptococci. Rapid diagnosis and timely treatment of group A streptococcal pharyngitis infections will reduce the severity of symptoms and further complications such as rheumatic fever and glomerulonephritis.
Accustrip® Strep A—Value+ Group A Streptococcus Antigen Test Strip is a rapid immunochromatographic assay for the qualitative detection of group A streptococcal antigen directly from throat swab specimens. The test is intended for use in the physician's offices, hospitals, and clinical laboratories as an aid in the clinical diagnosis of group A streptococcal infection.
Accustrip Value+ Strep A Rapid Test (25ct)
[ J415-ID513 ]