Loading Cart...
Call Us Today - 800-452-8909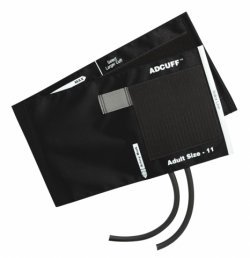 For use with most pocket and clock aneroids and many NIBP monitors.
The Adcuff™ and Bladder with 2-Tubes features:
Durable nylon construction
Exclusive Size Guide™ marking system
Inflation bladder with 55cm tubing length not made with natural rubber latex
For use with most traditional pocket, clock, or mercury style aneroid instruments
Adult size available in 12 colors
Individually boxed
Three Year Warranty
Meets or exceeds ANSI/AAMI/ISO 81060-1
Luer connector (#891F) not included
Adcuff and Bladder Adult, 9" x 15.7" (Black) ea.
[ ADC0200-845-11ABK-2 ]
Adcuff and Bladder Large Adult, 13.3" x 19.6" (Black) ea.
[ ADC0205-845-12XBK-2 ]