Loading Cart...
Call Us Today - 800-452-8909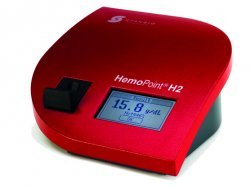 HemoPoint H2
CLIA WAIVED
For medical professional use only. This product cannot be purchased for personal or home use.
The HemoPoint® H2 Hemoglobin Analyzer provides a precise hemoglobin and hematocrit* measurement in just 30 seconds – One test. Two results.

The HemoPoint® H2 Hemoglobin Analyzer provides a hemoglobin measurement and a hematocrit calculation* in about 30 seconds. HemoPoint H2 Hemoglobin Analyzer is CLIA waived and enables users to perform tests quickly and easily.

The innovative 'soft load' cuvette holder prevents optics contamination, reducing the need for cleaning, and the intuitive backlit touchscreen allows simple and easy operation. The large memory of the HemoPoint® H2 Hemoglobin Analyzer allows you to recall the last 4,000 results, including the time and date of result and patient type.
Small Sample Size – Only requires a fingerstick of blood

Touchscreen – Allows for easy operation

Fast Results – Accurate results for both hemoglobin and hematocrit* tests in as little as 30 seconds

Data Storage – Recalls the last 4,000 test results
This highly portable analyzer also features an integrated rechargeable battery that provides 100 hours use for each charge, allowing the analyzer to be used in the field for large scale screening programs. A handy 'always ready' stand-by function reduces energy consumption and allows users to quickly start running tests without needing to remember to switch it on and off.
Minimal Training Time – Instrument's ease-of-use and user-friendly features make testing simple

Portable – Rechargeable battery.

Instant Alerts – Flags test results when outside of user-defined limits

Low Maintenance – Requires no extra servicing to function as designed
*Hematocrit result is calculated when hemoglobin result is within 12-18 g/dL
HemoPoint H2 Analyzer Brochure
HemoPoint-H2-Brochure.pdf
HemoPoint H2 Analyzer Product Sheet
HemoPoint H2 Analyzer Product Sheet.pdf
HemoPoint - Microcuvettes-Product-Sheet
HemoPoint - Microcuvettes-Product-Sheet
SDS
SDS.HemoPoint-H2-Battery-Pack.pdf
SDS HemoPoint-H2-Optics-Cleaner.pdf
SDS-H2-nxt-microcuvettes.pdf
SDS-HemoPoint-H2-Bi-Level-Controls.pdf
FAQ:
FAQ.pdf
CPT Codes
:
85018-QW
$3.35
HemoPoint H2 Optics Cleaner Kit
[ ST120-3050-003 ]
HemoPoint Controls (3 HIGH, 3 LOW)
[ ST116-3065-601 ]
Hemopoint H2 Microcuvettes (Individually Foil Wrapped) (50ct)
[ ST110-3025-050 ]
Hemopoint H2 Microcuvettes (100ct)
[ ST105-3015-100 ]
Hemopoint H2 Microcuvettes (200ct)
[ ST107-3015-200 ]