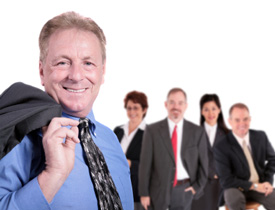 If you own or manage a business, you may have heard the term "corporate wellness." It sounds impressive, but what IS corporate wellness? More than a simple healthcare program, corporate wellness plans are designed to save money and improve employee health.
While a corporate wellness program may sound expensive, the opposite is true – the right plan can actually save hundreds of dollars per employee in healthcare spending every year. One of the largest parts of any wellness plan is corporate screening.
Corporate screening is dedicated to regular health and wellness checks. These screenings can keep low-risk employees well and improve the health of high-risk employees. This is done through the use of advanced monitoring equipment.
Some health problems that can be screened for with corporate wellness plans include:
High Cholesterol
Smoking (Cotinine-Nicotine)
Drug Abuse
Chronic Obstructive Pulmonary Disease (COPD)
Coronary Artery Disease
High Blood Pressure
Diabetes
Allergies
Nutrient Deficiencies
Hypothyroidism
Hormonal Imbalance
This list represents just a small selection of the health problems that can be assessed with corporate screening equipment. By discovering these issues, they can be treated and eliminated before they cause long-term damage.
This can lead to reduced absenteeism and all around healthier employees. That translates to money saved for any business – big or small. There are many different options available for screening equipment; this means that a corporate wellness plan can be adapted to fit nearly any business.
Some different types of screening equipment include:
Blood Screening Supplies
Allergy Testing Kits
Blood Pressure Monitors
EKG Tests
Lipid Profile Detectors
Oral Swabs for Cotinine-Nicotine
Oral Fluid Drug Tests
Pedometers
Retinal Eye Exams
These solutions and many more contribute to corporate screening. A strong culture of corporate wellness can reduce healthcare costs, improve employee morale and promote overall business growth.
By using corporate screening products, you're not just protecting the value of your company but the health of your employees as well. With a corporate screening program, the question isn't "can I afford to?" – But instead, can you afford not to have one?
To purchase corporate screening supplies at an affordable price, visit New Line Medical online at www.newlinemedical.com or call 800-452-8909 for more information.