Loading Cart...
Call Us Today - 800-452-8909
New Line Medical Blood Collection Kit (BULK)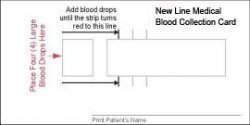 New Line Medical Blood Collection Kits come equipped with everything you need to collect your sample. Once complete, simply mail in your sample in the provided pre-paid envelope, and our CLIA-certified lab will process your order. Your results will then be mailed to you. It's that simple! The New Line Medical Blood Collection Kit allows you to work directly with our laboratory, which saves you time and money. We look forward to working with you!
The New Line Medical Blood Collection Kit is a revolutionary new way to collect, store, and transport micro-sample blood specimens for laboratory analysis. It supersedes all previous collection methods in its ease of use and accuracy. Complicated instructions and difficult procedures are now a thing of the past. Specimen drops no longer have to be specifically separated and accurately deposited, but are, instead, actually layered upon one another. There is no guesswork as to whether a specimen has been properly collected.
The secret to this patent-pending device lies in its special blood transport method that actually separates the blood serum from the red blood cells right on the card. This is the same process that occurs when a tube of blood is "spun down" in a centrifuge before processing (Most laboratory tests are performed on the serum only, and it must be separated from the red cells for analysis). Because the serum is already isolated when the sample reaches the laboratory, complicated and time-consuming extraction procedures are no longer necessary. Consequently, test results are reported much more rapidly.

You can choose one of the following test kits:

Allergen-Specific Immunoglobulin E (IgE) New
Lipoprotein(a) New
Direct LDL New
PSA
TSH
HS/CRP
A1C
Lipid/Glu
Cotinine
Testosterone
Cortisol

Why Test for Allergen-Specific Immunoglobulin E (IgE)

Allergen-Specific Immunoglobulin E (IgE) Test.pdf


Why Test for Lipoprotein?

Lipoprotein Testing: Why it's So Important and Where You Can Get it Done

Advanced-Cardiovascular-Testing-Best-Test-of-Your-Heart-Risk-and-Cholesterol

EP Evaluator reports:

White PSA
PSA Card Linearity
PSA Alternate (Quantitative) Method Comparison

HbA1c Card Linearity
HbA1c Alternate (Quantitative) Method Comparison

White TSH
TSH Card Linearity
TSH Alternate (Quantitative) Method Comparison

Cotinine Alternate (Quantitative) Method Comparison

GLU Linearity
GLU Alternate (Quantitative) Method Comparison