Loading Cart...
Call Us Today - 800-452-8909
Inject Safe - Barrier Bandages (100ct)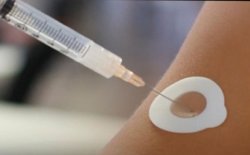 Inject-Safe™ Barrier Bandages
The first and only bandage designed specifically for injections.
Improved Safety

Lower Cost

More Convenient

Less Pain
Features & Benefits

Meets OSHA Blood Borne Pathogen Standards definition of Engineering Control, for use to reduce employee exposure to a patient's blood at the site of subcutaneous or intramuscular injection

Safer – Inject-Safe Barrier Bandages self-seals to help contain bleeding following an injection.

Consistent with "Universal Precautions" established by OSHA.

Protects the healthcare provider from exposure to potential blood borne pathogens.

Allows healthcare provider to use both hands to dispose of the needle. Reducing needle sticks.
Simple Procedure


Step 1: Prepare injection site with alcohol swab
Step 2: Remove bandage from package and apply to skin
Step 3: Make injection through center of bandage remove and safely dispose of syringe



Improved Safety
Barrier Bandage creates an antiseptic puncture site supporting "no touch" technique

Eliminates need to return to puncture site post injection

Self sealing membrane contains bleeding and splattering during an injection

Protects user from coming into contact with potential blood borne pathogens

Simple procedure reduces potential for accidental finger stick injuries

98% of users stated that the Barrier Bandage made them feel safer
Lower Cost
Combines the functionality of a band aid, cotton ball and rubber gloves

More efficient procedure lowers overall cost on injection by as much as 50%
More Convenient
Simple procedure saves time and integrates easily into busy office, clinic or pharmacy
Less Pain
Unique concentric adhesion reduces injection pain for patients

70% of patients felt the Barrier Bandage made the injection less painful
‌
Inject Safe - Barrier Bandages (100ct)
[ MP369-ISI007 ]