Loading Cart...
Call Us Today - 800-452-8909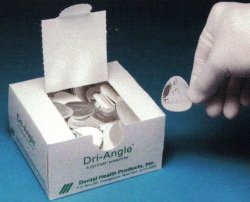 The Dri-Angle is a unique replacement and a decided improvement on the cotton roll in the parotid area. The Dri-Angle covers the parotid or Stensen's duct and effectively restricts the flow of saliva.
The Dri-Angle provides the required Dri-Field for:
Composites
Bonding
Cementing
A thin, absorbent, cellulose triangle, the Dri-Angle comes in two types: plain and silver coated. Use the silver coated Dri-Angle for superior saliva control. Silver coating on one side acts as a complete moisture barrier for heavy salivators.
Dri-Angle (Plain) Large (320ct)
[ DHP001-31L ]
Dri-Angle (Plain) Small (400ct)
[ DHP002-31S ]
Dri-Angle (Plain) Combo (200 Small + 160 Large)
[ DHP005-31SL ]
Dri-Angle (Silver) Large (320ct)
[ DHP008-32LAG ]
Dri-Angle (Silver) Small (400ct)
[ DHP009-32SAG ]
Dri-Angle (Silver) Combo (200 Small + 160 Large)
[ DHP010-32SLAG ]