Loading Cart...
Call Us Today - 800-452-8909
Crosszyme Concentrated Enzymatic Pre-Soak Cleaner (1 Gal.)
Crosszyme Concentrated Enzymatic Pre-Soak Cleaner (1 Gal.)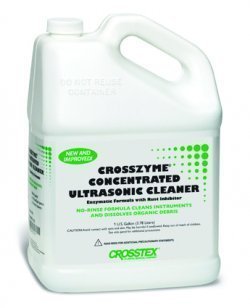 Crosszyme Concentrated Ultra Sonic Cleaner
Enzymatic Cleaning Formula
Cleans instruments and endoscopes dissolves organic debris
Removes:
Safe for use in:
PreClean/Soak systems
Ultrasonic cleaners
Works
to remove blood and organic debris immediately from instruments and general equipment. Exellent for enzymatic cleaning of endoscopes and other medical instruments. Also enzymatically dissolves proteinaceous matter in sink traps, allowing water to flow more freely. May also be used in an ultrasonic cleaning system. Biodegradable and contains no phosphates. Extremely mild pH.
Features of the Crosszyme Concentrated Enzyme Ultrasonic Cleaner:
A biodegradable, phosphate and chloride free component to enhance the removal of blood and proteinaceous fluids.
Neutral pH formula will not damage or harm instruments/endoscopes.
Contains no harsh alkaline components - non-corrosive
Safe for use on plastics, stainless steel, glass and aluminum.
Contains rust inhibitors.
Enhances the dissolving of organic materials.
May be used as an Ultrasonic Cleaning Soluition or an Instrument Presoak.
Pleasant Citrus Scent
Directions:
Dilute 20:1 for general purpose cleaning of dental instuments and devices. Pre-wiping of articles is not necessary. CrossZyme will remove most soils including blood, saliva, tissue, soft plasters and many temporary or permanent cements. Rinse cleaned items thoroughly prior to sterilization. Change your used solution in the tank daily. Dilute 10:1 to remove heavier deposits of dried blood or hardened cements.
Ultrasonic Cleaners:
Ultrasonically clean items for 10 minutes. Rinse and dry items thoroughly before proceeding with steriliztion process. Replace solution when cloudy or at least once per day as stated by OSHA.
Instrument Presoak:
Soak instruments in solution for at least 10 minutes, longer for tougher stains. Do not leave instruments in solutions for longer than 24 hours.
Crosszyme Concentrated Enzymatic Pre-Soak Cleaner (1 Gal.)
[ C040-JEZ ]