Loading Cart...
Call Us Today - 800-452-8909
E-SPHYG 3 - Digital Blood Pressure Monitor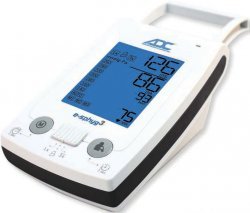 ADC's all-new e-sphyg 3 captures blood pressure measurements with the touch of a button. Designed for busy professionals who value both accuracy and affordability, the e-sphyg 3 is the feature-packed, clinical-grade solution you've been waiting for.
The e-sphyg 3 features:
Auto mode for quick readings in as little as 30 seconds

Manual mode for auscultation with a stethoscope

Customizable three-reading average mode with individual measurement display

Last-reading memory and irregular heartbeat detection

Oscillometric measurement with for systolic and diastolic blood pressures, pulse rate, and mean arterial pressure (MAP)

High-capacity rechargeable battery and AC power adapter, standard

For use with adult and pediatric patients

Validated for pregnancy and preeclampsia

Includes Small Adult, Adult, and Large Adult Adcuffs with exclusive Size Guide Marking System to ensure accurate readings on virtually any patient

Made without phthalates or natural rubber latex

Three-year warranty on unit and cuffs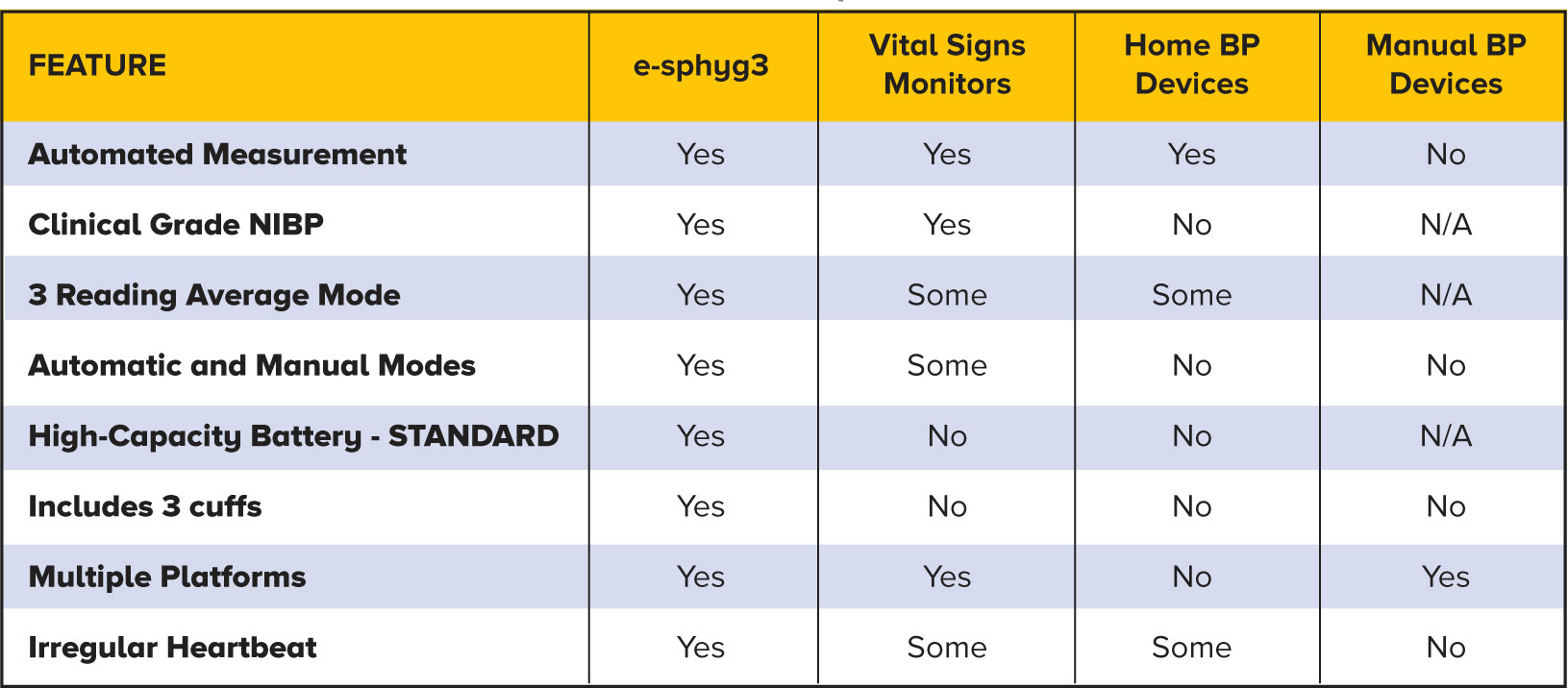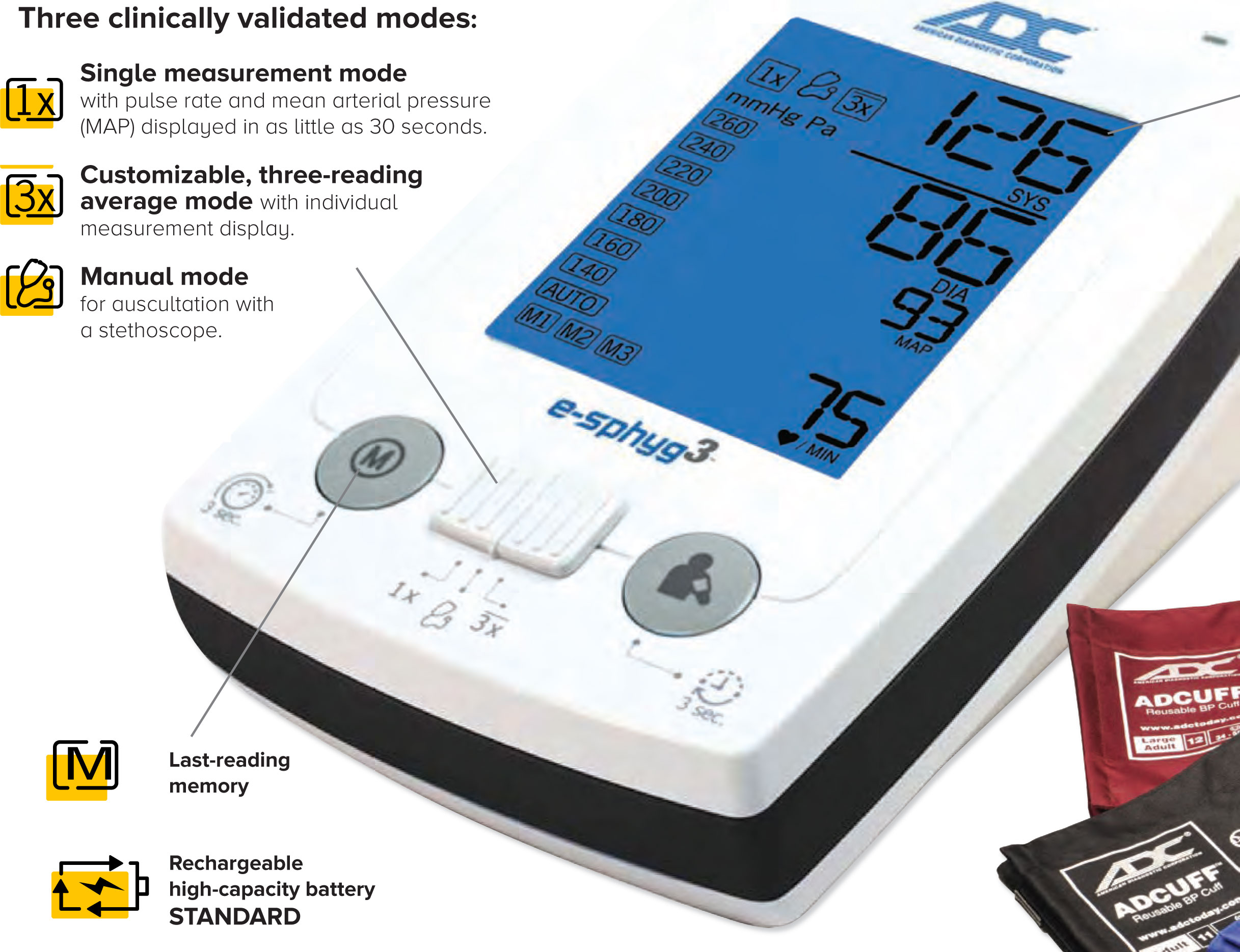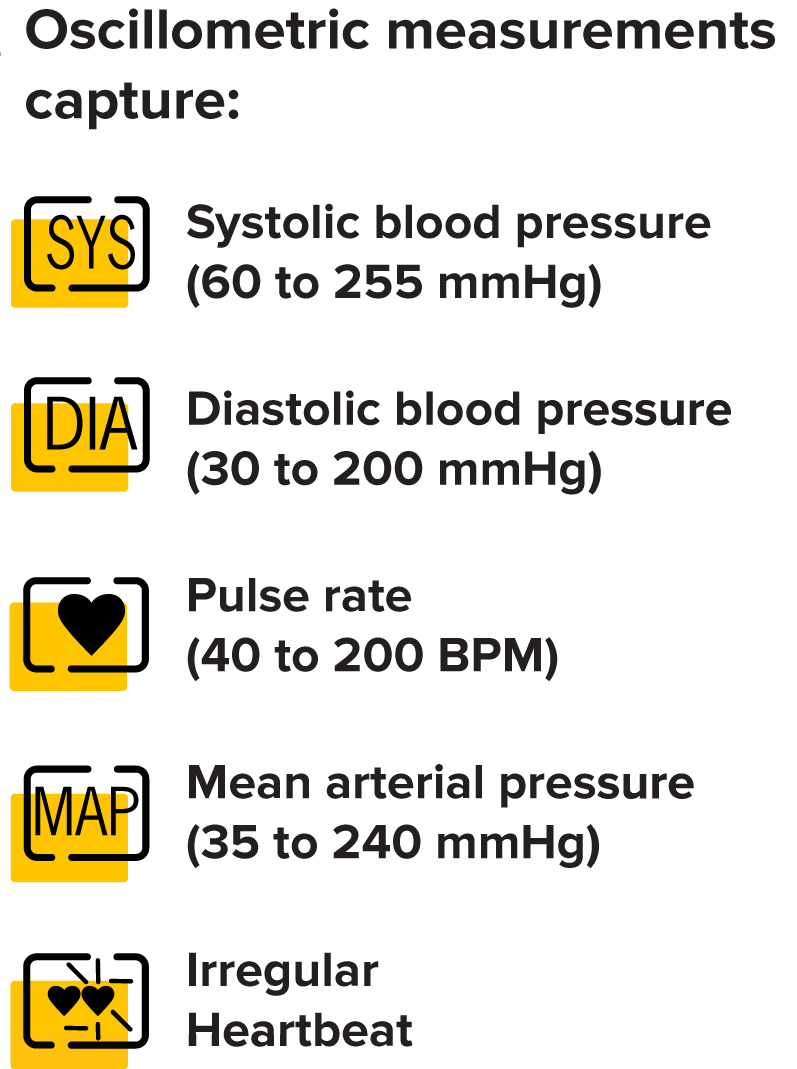 Technical Specifications
E-SPHYG 3 - Tubing
[ ADC733-9003TUBE ]
E-SPHYG 3 - Connector
[ ADC728-9003CON ]
E-SPHYG 3 - Tubing/Connector Assembly
[ ADC730-9003CT ]
E-SPHYG 3 - Desk Caddy, Ea
[ ADC743-9003D ]
E-SPHYG 3 - A/C Adapter Set
[ ADC720-9003ADAPT ]
E-SPHYG 3 - Adcuff Kit (Sm Adult, Adult, Large Adult w/ Connectors)
[ ADC725-9003CK ]
E-SPHYG 3 - HC Battery
[ ADC723-9003BAT ]
E-SPHYG 3 - Wall Mount w/ Basket
[ ADC747-9003W ]
E-SPHYG 3 - Moble Mount Bracket , Ea
[ ADC740-9003M ]
E-SPHYG 3 Kit - Unit with Two-Piece Cuffs
[ ADC700-9003K-MCC ]