Loading Cart...
Call Us Today - 800-452-8909
Impression Material - Defend
Impression Material - Defend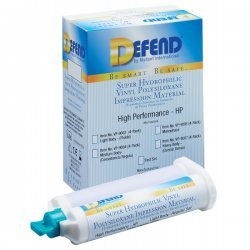 Super Hydrophilic Vinyl Polysiloxane Impression Material (VPS)
High performance (H.P) cartridge system available in regular and fast set in all 4 viscosities. The excellent tear strength allows the material to maintain "impression" integrity upon removal and precise impressions no matter what technique you use. Exceeds ISO 4380 standard which will help eliminate retakes.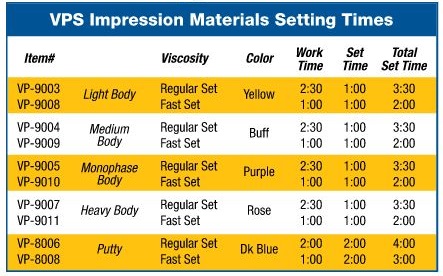 VPS Light Body - Fast Set (4x 50ml Cartridges)
[ DEF064-VP-9008 ]
VPS Light Body - Regular Set (4x 50ml Cartridges)
[ DEF060-VP-9003 ]
VPS Medium Body - Regular Set (4x 50ml Cartridges)
[ DEF061-VP-9004 ]
VPS Medium Body - Fast Set (4x 50ml Cartridges)
[ DEF065-VP-9009 ]
VPS Monophase Body - Regular Set (4x 50ml Cartridges)
[ DEF062-VP-9005 ]
VPS Monophase Body - Fast Set (4x 50ml Cartridges)
[ DEF066-VP-9010 ]
VPS Heavy Body - Regular Set (4x 50ml Cartridges)
[ DEF063-VP-9007 ]
VPS Heavy Body - Fast Set (4x 50ml Cartridges)
[ DEF067-VP-9011 ]