Loading Cart...
Call Us Today - 800-452-8909
Impression Trays - Defend
Impression Trays - Defend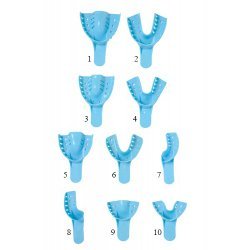 DEFEND Impression Trays
DEFEND Impression Trays are made of a strong, rigid material that aids in the generation of consistent, distortion-free impressions. Compatible with a wide range of impression materials, DEFEND impression trays offer a system of holes and perforations to optimize flow and retention of materials. The disposable, preshaped trays can be easily trimmed or flame softened to adjust for a custom fit. Non-slip grips offer easy, clean removal.

12 trays per bag.
Impression Tray #2 (Large Lower) PERFORATED 12ct
[ DEF086-IT-7002 ]
Impression Tray #1 (Large Upper) PERFORATED 12ct
[ DEF085-IT-7001 ]
Impression Tray #3 (Medium Upper) PERFORATED 12ct
[ DEF087-IT-7003 ]
Impression Tray #4 (Medium Lower) PERFORATED 12ct
[ DEF088-IT-7004 ]
Impression Tray #5 (Small Upper) PERFORATED 12ct
[ DEF089-IT-7005 ]
Impression Tray #6 (Small Lower) PERFORATED 12ct
[ DEF090-IT-7006 ]
Impression Tray #7 (Quadrant UL / LR) PERFORATED 12ct
[ DEF091-IT-7007 ]
Impression Tray #8 (Quadrant UR / LL) PERFORATED 12ct
[ DEF092-IT-7008 ]
Impression Tray #9 (Anterior Upper) PERFORATED 12ct
[ DEF093-IT-7009 ]
Impression Tray #10 (Anterior Lower) PERFORATED 12ct
[ DEF094-IT-7010 ]
Impression Tray #7 (Quadrant UL / LR) SOLID 12ct
[ DEF095-IT-7017 ]
Impression Tray #8 (Quadrant UR / LL) SOLID 12ct
[ DEF096-IT-7018 ]
Impression Tray #9 (Anterior Upper) SOLID 12ct
[ DEF097-IT-7019 ]
Impression Tray #10 (Anterior Lower) SOLID 12ct
[ DEF098-IT-7020 ]