Loading Cart...
Call Us Today - 800-452-8909
Microcyn HOCl Technology
Microcyn is a stable, highly efficacious pH-neutral wound irrigant based on the science of hypochlorous acid (HOCl).
HOCl is highly efficient, but under most conditions, an unstable antimicrobial agent that is generated by human cells as a defensive agent.
Clinically, Microcyn is a biocompatible wound irrigant that is stable, non-toxic, and non-irritating with antimicrobial properties.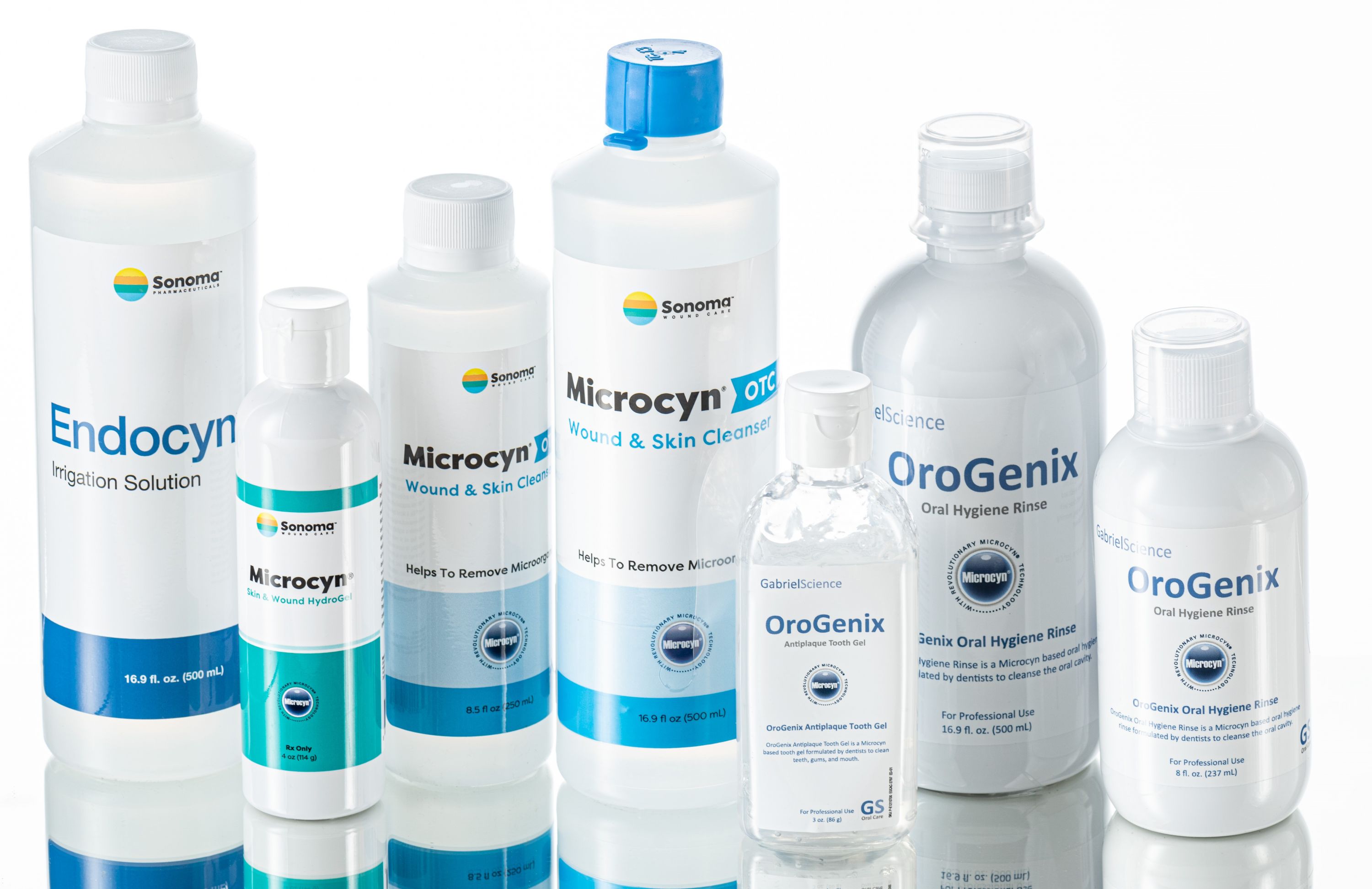 ---
Microcyn HOCL Technology Features
Antimicrobial Efficacy
HOCl, an ingredient in Microcyn, is 70 times more efficacious than the active ingredient in bleach, sodium hypochlorite (NaOCl).
Non Toxic
Non-toxic and non-cytotoxic
Microcyn is very efficacious at levels of free available chlorine (FAC) below the point at which toxicity begins.
Dilute bleach (Dakin's solution) requires significantly higher levels of actives and is cytotoxic.
Stable
Microcyn is stable (24+ month shelf life) life), whereas diluted bleach products such as Dakin's solution have limited stability requiring generation at the point of use.
---
Microcyn HOCl Summary:
Only compound in the world with unique combination
Broad spectrum and rapidly antimicrobial.
Effective against viruses, fungi and spores via unique mechanism of action
No antibiotic resistance seen.
As safe as saline.
Accelerates non-infected wound healing via decreased inflammation.
Significant evidence of safety and efficacy
Biocompatible, non-toxic, non-cytotoxic, non-irritating, non-allergenic.
33 clinical trials and numerous published articles.
Accelerates wound healing 20-30% in multi-study analysis.
Large human exposure (> 54 million patients to date).
---
Example Uses of OroGenix and Microcyn:
In-Office Use
Endocyn 500
Microcyn Skin-Wound Solution 500 ml with Sling Label for Hanging
At-Home Care
OroGenix Oral Hygiene Rinse with Microcyn
Oral hygiene rinse for at-homecare.
OroGenix Tooth Gel with Microcyn
Non-fluoride tooth gel for brushing.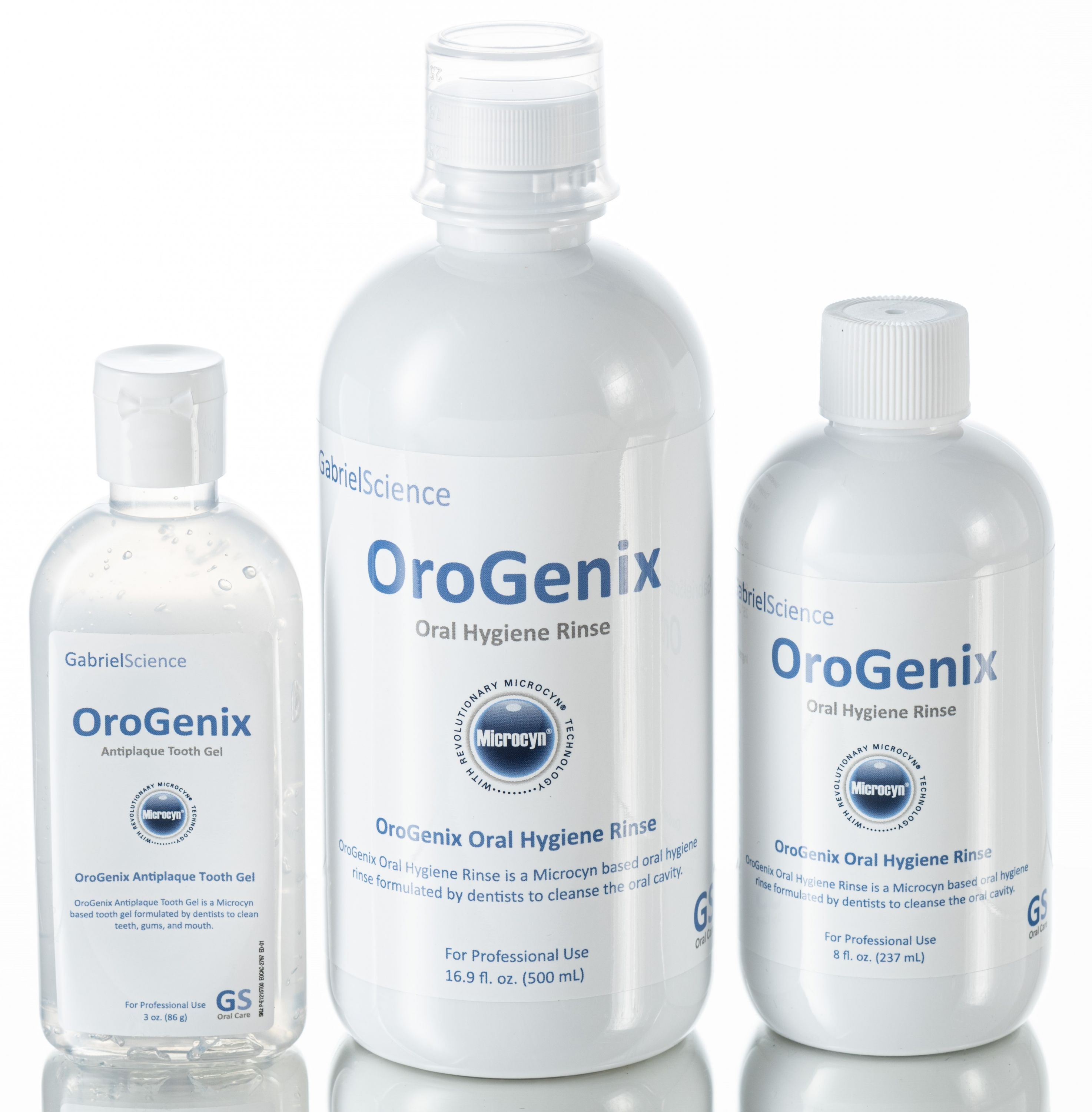 Microcyn Wound Gel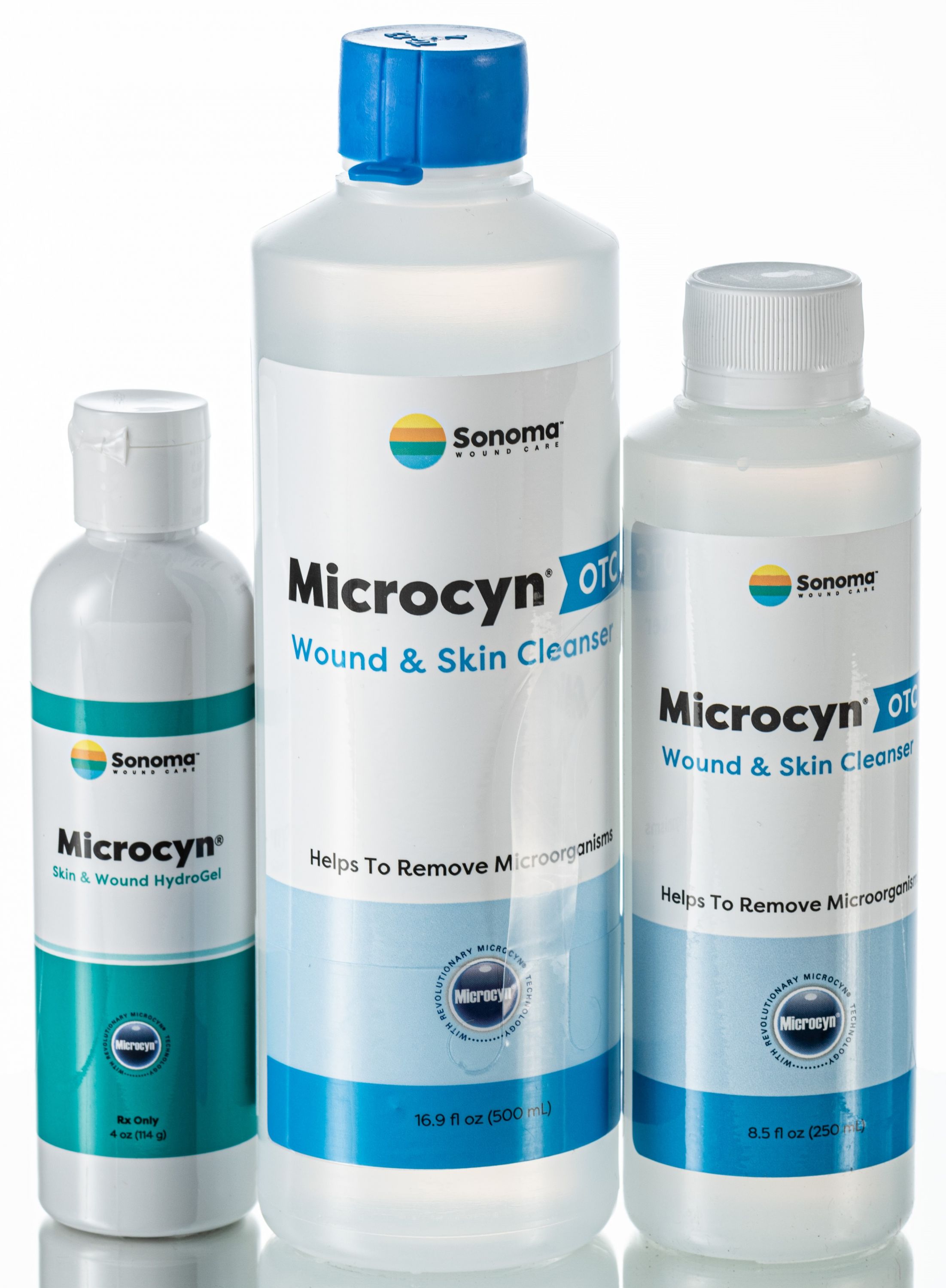 ---
Microcyn Branded Products:
Endocyn, Microcyn OTC Skin-Wound Cleanser, Microcyn Wound Gel
Endocyn with Microcyn
Root canal irrigant
510(k) cleared
500 ml (16.9 oz)
Microcyn OTC Skin Wound Cleanser
Irrigant - cleanser.
510(k) cleared.
Two Sizes
500 ml (16.9 oz) with sling label.
8 oz (237 ml) with squirt cap.
Microcyn Wound Gel
Topical wound gel
510(k) cleared
4 oz
---
OroGenix At-Home Products with Microcyn
OroGenix Oral Hygiene Rinse and OroGenix Tooth Gel
OroGenix Tooth Gel
Non-fluoride tooth gel with Microcyn gel.
3 fluid ounces (89 ml).
OroGenix Oral Hygiene Rinse
Oral hygiene rinse with Microcyn
Two Sizes:
500 ml (16.9 oz) with graduated measuring cup
237 ml (8.5 oz) with graduated measure cup
Documents:
Antimicrobial_Facial_Cleanser_Study
Endocyn_brochure_V3
Endocyn_LSU_Study
Microcyn_Solution_brochure
Microcyn_Test Summary
NPWT_Solution_brochure
Orogenix Oral Hygiene Rinse (237ml 8 oz) w/Dispensing Cup 12/Case
[ GS032-200-1002 ]
Orogenix Antiplaque Tooth Gel (3oz) 12/Case
[ GS033-200-1003 ]
Orogenix Oral Hygiene Rinse (500ml 16.9 oz) w/Dispensing Cup 12/Case
[ GS031-200-1001 ]
Microcyn OTC Wound-Skin Cleanser (8oz Squirt Cap, 12/Case)
[ GS015-100-1003 ]
Microcyn OTC Wound Gel (4oz) 12/case
[ GS020-100-1004 ]
Endocyn (500ML,12/Case)
[ GS001-100-1001 ]
Microcyn OTC Wound-Skin Cleanser (500ml Sling Label, 12/Case)
[ GS010-100-1002 ]