Loading Cart...
Call Us Today - 800-452-8909
2-Tone Disclosing Solution
2-Tone Disclosing Solution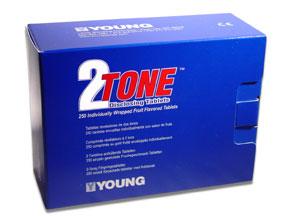 Try 2-Tone disclosing agents to help your patients really SEE their difficult areas. Old plaque will stain blue to identify areas continually missed while more recent plaque will stain red. Available in liquid or tablet form.
Easy to use

Choose from 2 oz, or tablets

Ideal for use with 3 month recalls, orthodontic patients and home care instruction
For professional use only. This product cannot be purchased for personal or home use.
2-Tone Disclosing Solution (2 oz)
[ Y050-233102 ]
2-Tone Disclosing Tablet (250 ct)
[ Y052-234225 ]