Loading Cart...
Call Us Today - 800-452-8909
Band Aids - Adhesive Bandages - Dynarex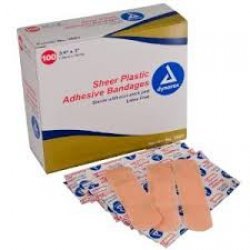 A sterile ready to use protective dressing for minor cuts and abrasions. Manufactured of strong, sheer, ventilated plastic, coated with a long lasting adhesive. Non-stick pad for comfort and fluid absorption. Packaged in dispenser boxes for convenient handling. Latex-free.
Adhesive Bandage 3/4" x 3" (100 ct.)
[ D035-3601 ]
1" x 3" (100 ct.)
[ D036-3602 ]