Loading Cart...
Call Us Today - 800-452-8909
Caviwipe Resealable Flat-Pack 45ct
Caviwipe Resealable Flat-Pack 45ct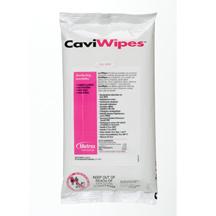 CaviWipes™ in a Flat Pack
CaviWipes is now available in a slim, resealable, adhesive-backed, flat pack that provides enhanced convenience where you need it.

Enhanced Convenience to Meet your Compliance Needs
Imagine surface disinfectant wipes at your fingertips in confined spaces and on mobile units! CaviWipes in a flat pack contain the same, reliable surface disinfectant wipes as our CaviWipes in canisters.
CaviWipes is recommended to clean, disinfect and decontaminate hard, nonporous surfaces in healthcare settings—interior and exterior surfaces of infant incubators, anesthesia machines, ambulance equipment, telephones and IV poles.
Features:
Unique Design

- Resealable soft pack offers infection prevention at your finger tips.

Fast Action

- Kills TB in 3 minutes and MRSA, HIV-1, HBV and HCV in 2 minutes.

More Value

A cleaner and disinfectant in one.

Fully Saturated

- 7-layer wipe design drenches surface with the power of CaviCide.

Non-abrasive

- For use as directed on hard, nonporous surfaces.

Space Saver

- Minimize storage space and unclutter counter space.

Durable

- Non-woven towelettes that won't bunch up during use.
Caviwipe Resealable Flat-Pack 45ct
[ A221-13-1224 ]
| | | |
| --- | --- | --- |
| | Product is in very short supply and are on allocation. If you are not a current local Medical Professional your order will be canceled. | |