Loading Cart...
Call Us Today - 800-452-8909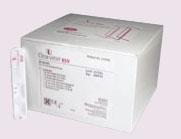 Rapid technology provides direct detection of the Respiratory Syncytial Virus.
For medical professional use only.

This product cannot be purchased for personal or home use.
20 tests/bx.
[ 871-135060 ]
Description

Clearview RSV

Clearly different
Clearview's patented innovative technology provides highly sensitive and
specific tests for Respiratory Syncytial Virus (RSV).

Rapid Response:

4 easy steps,result in 15 minutes.

Simplicity:

CLIA waived,easy-to-use test requires no training.

Reliability:

Built-in control ensures accuracy.

Flexibility:

Multiple sample types — nasopharyngeal swabs
or aspirates.

Clearly better
Clearview RSV is designed to aid in the rapid diagnosis in children less than
6 years and adults over age 60.

Shortens the course of illness.
Reduces severity of symptoms.
Reduces the spread of virus to others.
Reduces the risk of more serious illness in young children
and elderly patients.

Clearview RSV

Rapid technology
provides direct
detection of Group A
Streptococcal Antigen.