Loading Cart...
Call Us Today - 800-452-8909
Core Build-up (Starter kit)
Core Build-up (Starter kit)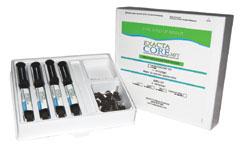 Features:
Same Great product in easy to handle syringe
No guns necessary, easy to stock multiple ops
Easier intra-oral placement

Each kit contains (4) 4ml syringes of material , (20) Mixing tips, and (20) intra-oral tips. Try a starter kit to get (1) syringe of all 4 shades (A2, blue, gold, white) or a refill kit to get 4 syringes of your favorate shade.
EXACTA Core MFT features the extra reinforcement of Micro Fiber Technology providing exceptional high strength and wear resistance for core build-ups. Available in automix cartridges and syringes, EXACTA Core MFT is fast, easy and provides consistent core build-ups time after time with no messy clean-up. You have the option for either self-cure or light cure in as little as 20 seconds.
Exceptionally high compressive strength just like dentin

Contains fluoride – reducing secondary caries

Radiopaque for x-ray detection

Easy and accurate to place with stable viscosity
(tips) (20) mixing tips, and (20) intra-oral tips.)
[ E076-SCB-TIPS ]
(1) 4ml syringes of A-2, Blue, White, & Gold material, (20) mixing tips, and (20) intra-oral tips.)
[ E071-SCB ]
(White) (4) 4ml syringes of material, (20) mixing tips, and (20) intra-oral tips)
[ E075-SCB-WH ]
(Gold) (4) 4ml syringes of material, (20) mixing tips, and (20) intra-oral tips)
[ E073-SCB-GL ]
(Blue) (4) 4ml syringes of material, (20) mixing tips, and (20) intra-oral tips.)
[ E074-SCB-BL ]
(A-2)(4) 4 ml syringes of material, (20) mixing tips, and (20) intra-oral tips)
[ E072-SCB-A2 ]