Loading Cart...
Call Us Today - 800-452-8909
Exacta Flow - Flowable Composite
Exacta Flow - Flowable Composite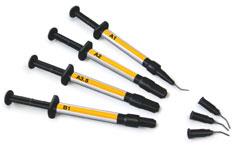 Need to do an intra-oral repair on a temporary crown or bridge? EXACTA FLOW is the perfect complement to EXACTA Temp XTRA.

EXACTA Flow-lc is an advanced light curing flowable composite. EXACTA Flow-lc material is a versatile flowable composite with great strength characteristics with comparable physical properties to the best hybrid composites. The material is not too sticky and makes handling easy. The viscosity prevents the material from slumping, while still flowing on the surface for great coverage. EXACTA Flow-lc material cures in only 3 seconds with high speed cure lights or only 10 seconds with standard halogen lights. Many of our customers use EXACTA Flow-lc as an add-on material for EXACTA Temp Xtra, as the composite is shade matched exactly to the temporary material.
Exacta Flow Shade A1
[ E019-EFA1-1 ]
Exacta Flow Shade A2
[ E020-EFA2-1 ]
Exacta Flow Shade A3.5
[ E021-EFA35-1 ]
Exacta Flow Shade B1
[ E022-EFB1-1 ]
Exacta Flow Tips
[ E023-EFTIPS ]