Loading Cart...
Call Us Today - 800-452-8909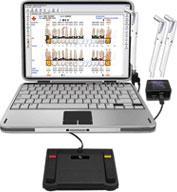 The Florida Probe System provides everything that you need to turn a personal computer into a state - of - the art computerized probing station!
With this constant-force probe, dentist and hygienist can measure periodontal pockets faster and more accurately.
The constant force allows measurements to be standardized between operations.
Treatment can begin in the earliest stages of disease, often preventing early bone loss and possible surgery.
The system can record the main parameters of a periodontal exam, including missing teeth, recession, pocket depth, bleeding, suppuration, furcation involvement, mobility and plaque assesment.

Voice Call-outs: As data is entered via the computer keyboard, you will hear a female/male voice call out all data for the patient's benefit. This assists in keeping the patient involved in the exam since it produces a "co-diagnosis" effect. The computer also calls out "midline" and "changing arches" so that the hygienist will always stay on track, never ending the visit by being off by a tooth at the end of charting.
Voice options include Spanish, Portuguese, French, German, Swedish, Finnish, Japanese and Korean, Russian.
Florida Probe Gold
Go-Probe Software (FP32 v9)
3 Florida probe handpieces
USB computer interface
1 Footswitch
1 go-pad wireless input device
On-site installation/Training
Training dvd
1 year tech support
1 year warranty + upgrades

Florida Probe Platinum
Go-Probe software (FP32 v9)
3 Florida probe handpieces
USB computer interface
1 Footswitch
1 Docking station
1 go-pad wireless input device
On-Site installation/training
Training DVD
1 Year tech support
1 year warranty/upgrades
FL Probe Normal Tips (3pk)
[ FP08-TIP-NORMAL ]
FP Tips Long (3pk)
[ FP09-TIP-LONG ]
FP Tips Short (3PK)
[ FP10-TIP-SHORT ]
Extra Handpiece
[ FP06-HANDPIECE ]
FP EPAD DIGITAL SIGNATURE
[ FP15-EPAD ]
GOPAD Wireless Input
[ FP07-GOPAD ]
Docking Station
[ FP05-DOCK ]
Florida Probe Gold
[ FP02-GOLD ]
Florida Probe Platinum
[ FP01-PLATINUM ]