Loading Cart...
Call Us Today - 800-452-8909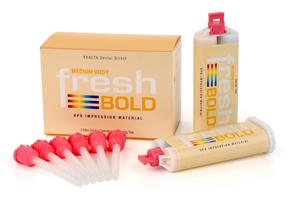 Excellent for dentures and all other impressions requirements. Thixotropic properties allow the material to be stable yet flow easily under the slightest pressure. Offered in both regular and fast set.
FRESH Bold Impression Material uses state of the art silicone polymer formulas to give you a forgiving impression material that is accurate in the most difficult oral environments. We developed nine different viscosities and we can help you choose what will work best for your procedures and techniques. Whether it be traditional crown and bridge impressions, denture impressions, or impressions for orthodontic procedures, EXACTA has you covered. Most viscosities also have two different set times, a regular set for more challenging cases or a fast set to make life easier.
Fresh Medium Body Fast (2-50ml, 6 tips & 6 intra oral tips)
[ E043-7492 ]