Loading Cart...
Call Us Today - 800-452-8909
Microflex Midknight Nitrile
Microflex Midknight Nitrile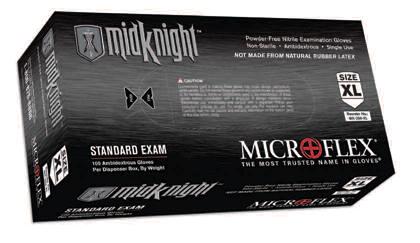 BLACK POWDER-FREE NITRILE STANDARD EXAMINATION GLOVES
Recommended for use in the following industries: Laboratory / Law Enforcement / Industrial Safety / Tattoo / Automotive / Corectional Facilities / Funeral
When enhanced tactile sensitivity and consistent grip are a must, make MidKnightTM your glove of choice.
MidKnightTM gloves offer the superior combination of durability and protection against day-to-day hazards, in a comfortable nitrile glove. The glove of choice for individuals who demand uncompromising quality and protection, MidKnightTM provides an exceptional balance of performance, comfort and durability. Designed specifically with a distinct color that resists stains.
Recommended for use when:
• Day-to-day hazards require the best combination of durability and consistency
• Working in environments that demand firm grip and reliability
• Precise contact requires enhanced tactile sensitivity
100 Gloves Per Box
Microflex Midknight Nitrile Small
[ 231-MK-296-S ]
Microflex Midknight Nitrile Medium
[ 232-MK-296-M ]
Microflex Midknight Nitrile Large
[ 233-MK-296-L ]
Microflex Midknight Nitrile X-Large
[ 234-MK-296-XL ]
Microflex Midknight Nitrile XX-Large
[ 235-MK-296-XXL ]
Microflex Midknight Nitrile X-Small
[ 230-MK-296-XS ]