Loading Cart...
Call Us Today - 800-452-8909
MICROFLEX Ultra Sense Nitrile Glove
MICROFLEX Ultra Sense Nitrile Glove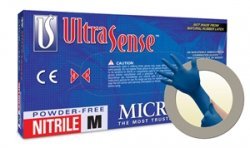 NEW!

-

A nitrile glove with the comfort of latex... the search s now over... introducing UltraSense™.



UltraComfort -
Ultra-soft, next generation nitrile
formulation provides the relaxed fit and feel that
you would expect from a latex glove.
UltraDurable -
High quality nitrile offers reliable barrier
protection against many hazardous and infectious substances.
UltraGrip -
Unique manufacturing process delivers
an outstanding grip in wet and dry environments.
UltraValue -
The comfort of latex in an affordable nitrile glove provides
the superior value you have been searching for in a synthetic glove.
Powder-Free, Non-Sterile Nitrile Examination Glove
100 gloves per box
10 boxes per case
X-Small
[ 260-US-220-XS ]
X-Large
[ 264-US-220-XL ]
Description
ASTM*

UltraSense

Length

(mm/in):
220/8.7
245/9.6

Cuff Thickness

(mils):
n/a
2.8

Palm Thickness

(mils):
min. 2.0
3.5

Finger Thickness

(mils):
min. 2.
4.7

Tensile Strength

Before Aging (MPa):
min. 14
min. 18
After Aging (MPa):
min. 14
min. 16

Elasticity/Elongation:

Before Aging (%):
min. 500
min. 500
After Aging (%):
min. 400
min. 400

Material:

Nitrile: not made from natural rubber latex

Type:

Non-sterile

Shap:

Ambidextrous

Color:

Custom Blue

Sizes:

X-Small, Small, Medium, Large, X-Large

Cuff:

Beaded

Glove Interior:

Powder-free

Glove Exterior:

Textured fingers

Usage:

For single-use only