Loading Cart...
Call Us Today - 800-452-8909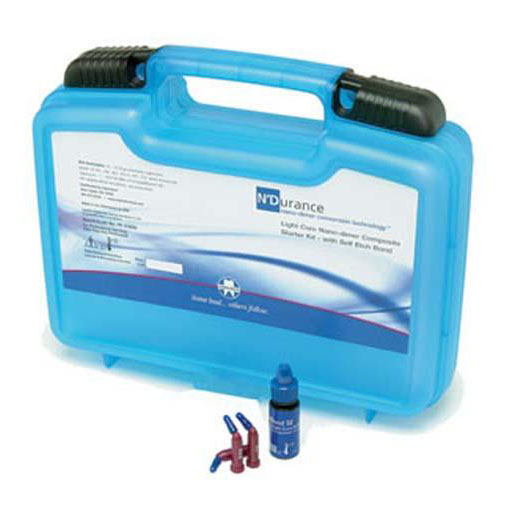 N Durance
the revolutionary nano-dimer composite for

anterior and posterior

restorations.


N Durance Starter Kit includes:
40-0.25g Unit Dose Capsules
5 each of A1, A2, A3, A3.5, B1, C2
Universal Opaque and Incisal






Kit Contains

: 7 x 0.25gm unidose tips each of A1, A2, A3, A3.5,
B1, C2, and Universal Opaque, 1-5ml bottle ImageBond SE, 50
application brushes, mixing pad and well
For professional use only. This product cannot be purchased for personal or home use.
N Durance Dispenser Gun
[ ND024-01-C2056 ]
N Durance Unidose Capsule A1 (20x 0.25 gm)
[ ND005-01-C3011 ]
N Durance Unidose Capsule A2 (20x 0.25 gm)
[ ND006-01-C3012 ]
N Durance Unidose Capsule A3 (20x 0.25 gm)
[ ND007-01-C3013 ]
N Durance Unidose Capsule A3.5 (20x 0.25 gm)
[ ND008-01-C3014 ]
N Durance Unidose Capsule A4 (20x 0.25 gm)
[ ND009-01-C3015 ]
N Durance Unidose Capsule B1 (20x 0.25 gm)
[ ND010-01-C3016 ]
N Durance Unidose Capsule B2 (20x 0.25 gm)
[ ND011-01-C3017 ]
N Durance Unidose Capsule B3 (20x 0.25 gm)
[ ND012-01-C3018 ]
N Durance Unidose Capsule B4 (20x 0.25 gm)
[ ND013-01-C3019 ]
N Durance Unidose Capsule C1 (20x 0.25 gm)
[ ND014-01-C3020 ]
N Durance Unidose Capsule C2 (20x 0.25 gm)
[ ND015-01-C3021 ]
N Durance Unidose Capsule C3 (20x 0.25 gm)
[ ND016-01-C3022 ]
N Durance Unidose Capsule C4 (20x 0.25 gm)
[ ND017-01-C3023 ]
N Durance Unidose Capsule D2 (20x 0.25 gm)
[ ND018-01-C3024 ]
N Durance Unidose Capsule D3 (20x 0.25 gm)
[ ND019-01-C3025 ]
N Durance Unidose Capsule D4 (20x 0.25 gm)
[ ND020-01-C3026 ]
N Durance Unidose Capsule Bleach (20x 0.25 gm)
[ ND022-01-C3028 ]
N Durance Unidose Capsule Uni Opaque (20x 0.25 gm)
[ ND021-01-C3027 ]
N Durance Unidose Capsule Translucent (20x 0.25 gm)
[ ND023-01-C3029 ]