Loading Cart...
Call Us Today - 800-452-8909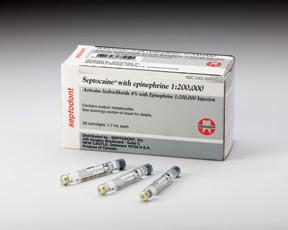 Septocaine articaine hydrochloride 4% (40 mg/ml) with epinephrine
1:200,000
injection. A sterile, aqueous solution that contains articaine HCL 4% (40mg/mL) with epinephrine bitartrate in a
1:200,000
strength. Articaine HCL is a local anesthetic. Septocaine is indicated for local, infiltrative, or conductive anesthesia in simple or complex dental procedures.
100% Latex-Free
Onset Time 1 to 6 minutes
Pulpal Anesthesia Duration 60 minutes
Epinephrine Concentration

1:200,000

Maximum Dose 3.2 mg/lb, 7mg/kg
Cartridge Fill Voume 1.7 ml
Milligrams per Cartridge 68 mg
Package Size 50 Cartridges
(50) 1.8 ml Cartridges



We can only sell this product to licensed physicians
Septocaine 4% with epinephrine 1:200,000
[ 955-A1200 ]