Loading Cart...
Call Us Today - 800-452-8909
Profil Unidose Hybrid Composite
Profil Unidose Hybrid Composite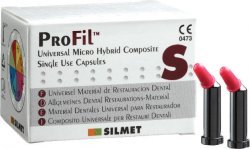 ProFil is a micro hybrid composite material for use in both anterior and posterior restorations. ProFil composite resin is the perfect combination of simplicity and exceptional esthetics. ProFil Hybrid Composite is designed to minimize polymerization shrinkage by high density inorganic fillers loading, thus shows excellent marginal sealing and surface texture. Features Micro Hybrid composite resin, the latest in Nano technology.
Profil Unidose Hybrid Composite A1
[ CI1000-104-18UA01 ]
Profil Unidose Hybrid Composite A2
[ CI1001-104-18UA02 ]
Profil Unidose Hybrid Composite A3
[ CI1002-104-18UA03 ]
Profil Unidose Hybrid Composite A4
[ CI1003-104-18UA04 ]
Profil Unidose Hybrid Composite A3.5
[ CI1004-104-18UA35 ]
Profil Unidose Hybrid Composite B1
[ CI005-104-18UB01 ]
Profil Unidose Hybrid Composite B2
[ CI1006-104-18UB02 ]
Profil Unidose Hybrid Composite B3
[ CI1007-104-18UB03 ]
Profil Unidose Hybrid Composite C2
[ CI1008-104-18UC02 ]
Profil Unidose Hybrid Composite C3
[ CI1009-104-18UC03 ]
Profil Unidose Hybrid Composite D3
[ CI1010-104-18UD03 ]
Profil Unidose Hybrid Composite OPAQUE A2
[ CI1011-104-18UOA2 ]
Description
Profil Compules
Universal Dental Restorative Material ProFil COMPULES with Advanced Nano Technology


Manage your costs without compromising quality.





Universal Micro Hybrid Composite


ProFil is a micro hybrid composite material for use in both anterior and posterior restorations. ProFil composite resin is the perfect combination of simplicity and
exceptional esthetics.
ProFil Hybrid Composite is designed to minimize polymerization shrinkage by high
density inorganic fillers loading, thus shows excellent marginal sealing and surface
texture. Features Micro Hybrid composite resin, the latest in Nano technology.

Features:
High polishability

Non sticky formula

Optimal balance of physical properties

Light cured, radiopaque and color stable

Low polymerization shrinkage

Fast placement technique, easy to apply and sculpt

High strength and wear resistance
33% MORE MATERIAL Than the Leading Brands


20 x .315gm Compules

Shades: A1, A2, A3, A3.5, A4, B1, B2, B3, C2, C3, D3, BW



Costs 50 -70% Less

Than Expensive Name Brands



Compares to:

Premise, Herculite XRV, Point 4, Filtek Supreme, Gradia, TPH, Esthet X, Durafill, Venus, Heliomolar & Clearfil