Loading Cart...
Call Us Today - 800-452-8909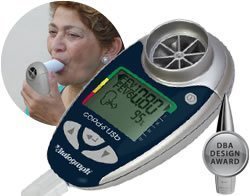 Vitalograph copd-6 Range
For the early detection of COPD – quickly, simply & accurately
Fast screening of at-risk groups
Provides quick assessment of need for full spirometry
Displays FEV1, FEV6, FEV1/FEV6 measured and percent of predicted
Obstructive Index and COPD classification indicator
Indication of effective Lung Age
NHANES III predicted value sets
Small, light weight, portable unit
Designed for multi-patient use with SafeTway® mouthpieces
Full size color report from USB version
Large, easy to read display
The new Vitalograph copd-6 offers fast, simple and effective screening of those at risk for COPD. The dual zone indicators provide an instant indication of both the obstructive index and the COPD classification.
Using NHANESIII predicted values, the copd-6 measures and displays FEV1, FEV6, FEV1/FEV6 and percent of predicted. The copd-6 USB links to your PC to produce electronic pdf for attaching to patient's file and hard copy color reports.
Those with measurements within the normal range can be screened out, allowing diagnostic spirometry resources to be focused on those most at risk.
Vitalograph copd-6 usb
For COPD screening compatible with Vitalograph Reports Software
The copd-6 usb identifies those at risk of COPD at the pre-symptomatic stage to allow early medical intervention and facilitate better clinical outcomes.
This pioneering device screens out those whose FEV1 is normal, and who therefore do not have COPD,without the risk of false COPD negatives.
By linking to your PC the copd-6 usb produces electronic & hard copy reports.
Predicted values, 3 test results, best test, % predicted and lung age automatically tabulated
Obstructive index, COPD (GOLD) Classification indicator
BMI calculated
Blow quality indicator
Interpretation of results
Interpretation of results
Reports include:
Single page record for screening or monitoring
Various report options
Optional subject ID and name fields (weight field optional)
Ability to add comments to the report
Age, height, gender, device ID, time/date fields automatically populated
Can automatically name the PDF file
Ability to add comments to the report
COPD SAMPLE REPORT
4000 SERIES COMPAIRISON CHART
COPD Medical Facts:
About one in four adults age 35 and over can be expected to develop chronic obstructive pulmonary disease (COPD), new research suggests.
The average woman in her mid-30s is more than three times as likely to develop the progressive and potentially deadly lung disorder as breast cancer during her lifetime, says respiratory disease specialist Andrea Gershon, MD. She says the average man is more than three times as likely to develop COPD as prostate cancer.
"This is a disease that is underreported. But it is still the fourth leading cause of death worldwide and it is projected to be the third cause of death within two decades," Gershon tells WebMD.
Symptoms of COPD include:
Constant coughing, sometimes called "smoker's cough"
Shortness of breath while doing activities you used to be able to do
Excess sputum production
Feeling like you can't breathe
Not being able to take a deep breath
Wheezing
Genetic Factors
In some people, COPD is caused by a genetic condition known as alpha-1 antitrypsin, or AAT, deficiency. While very few people know they have AAT deficiency, it is estimated that as many as 100,000 Americans have it. People with AAT deficiency can get COPD even if they have never smoked or had long-term exposure to harmful pollutants.
Mild COPD:
The first stage of COPD is termed "Mild COPD". Typically, your spirometry test indicates mild airflow restriction. During the first stage of COPD, it is difficult to breath after simple activities.It is much better to begin COPD treatment during the early COPD stages. Especialy when you may not even be aware of decreased lung ability. Since there is no cure for this condition, getting treatment early will ease the discomfort and quite likely hold it's progression to a slower rate.
Moderate COPD:
The second stage of COPD is termed "Moderate COPD". Typically, your spirometry test indicates a worsening airflow restriction.
Its at this stage when people usually seek medical attention. Due to breathing issues, many will cut down on certain day to day activities. As with the mild stage, treatments are available, but no cure. There's a chance that once at this stage, the disease will continue to progress, leaving one to battle severe COPD.
The third stage of COPD is termed "Severe COPD"
. Typically, your spirometry test indicates severe air flow restriction.
This stage of the disease can be unbearable for some. It is at this stage when one realizes just how afflicting this disease is. Treatment helps to alleviate some symptoms. treatment can ease discomfort and make life more managable. Especially if treatments are applied during the early COPD stages. it is a progressive disease, but as it's always to one's advantage to catch it early.
The stages of COPD are often defined according to your symptoms plus a measure of how well your lungs work, called your "lung function."
Mild COPD (stage 1)
Usually, but not always, a chronic cough that often brings up mucus from the lungs
Lung function FEV1 of 80% of normal or higher
Moderate COPD (stage 2)
Chronic cough with a lot of mucus
Shortness of breath, especially with exercise
An occasional COPD flare-up
Lung function FEV1 of 50% to 79%
Severe COPD (stage 3)
Chronic cough with a lot of mucus
Shortness of breath
Fatigue and a reduced ability to exercise
Repeated and sometimes severe COPD flare-ups
Lung function FEV1 of 30% to 49%
Very severe COPD (stage 4)
Chronic cough with a lot of mucus
Severe shortness of breath
Weight loss
Blue skin color, especially in the lips, fingers, and toes (called cyanosis)
Fluid buildup in the legs and feet (called edema)
Life-threatening COPD flare-ups
Lung function FEV1 of less than 30%, or of less than 50% along with chronic respiratory failure (a condition caused by carbon dioxide that stays in the lungs)
The importance of testing for COPD
COPD is the third leading cause of death in the United States.
The National Heart, Lung and Blood Institute estimates that 12 million adults have COPD and another 12 million adults have COPD and another 12 million are undiagnosed or developing COPD.
COPD kills more women that men each year. In 2006, COPD killed more American women than breast cancer and diabetes combined.
With an emphasis on preventive care, catching, diagnosing and treating disease states early is critical to improved outcomes. This is especially the case with chronic obstructive pulmonary disease (COPD), a progressive disease that makes it hard to breathe, according to the National Heart, Lung and Blood Institute. COPD can cause coughing that produces large amounts of mucus, wheezing, shortness of breath, chest tightness, and other symptoms. COPD is slow developing, but has very serious health implications.
Long-term exposure to lung irritants that damage the lungs, and the airways usually is the cause of COPD. In the United States, the most common irritant that causes COPD is cigarette smoke. Pipe,cigar, and other types of tobacco smoke also can cause COPD, especially if the smoke is inhaled. Breathing in secondhand smoke, air pollution, or chemical fumes or dust from the environment or workplace also can contribute to COPD.
Vitalograph Mini Safetway Mouthpieces Pediatric (50ct)
[ VIT012-20980-A ]
Vitalograph Safetway Adult Mounthpieces (200ct)
[ VIT010-20242-A ]
Vitalograph Safetway Noseclips (200ct)
[ VIT015-20303-A ]
Vitalograph COPD-6 USB
[ VIT002-40451 ]