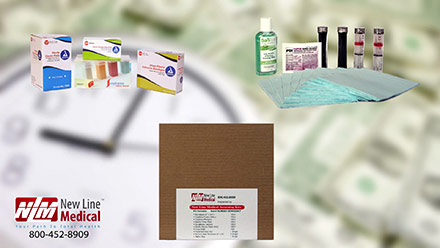 Cholesterol screenings are a crucial part of any good corporate wellness plan. Cardiovascular disease, diabetes, stroke, angina, clogged arteries and more have been linked to high cholesterol levels.
When employees struggle with these issues, it can lead to:
Increased absenteeism
Lowered productivity
Higher insurance costs
A weakened bottom line
This all points to corporate cholesterol screenings as something truly necessary for an employee wellness program to succeed.
One of the biggest stopping points for corporate wellness coordinators and office health leaders is just how difficult it can be to gather all of the necessary supplies. In addition to a cholesterol screening system, there are things like:
Capillary Plungers & Tubes
Alcohol Prep Pads
Sterile Gauze Pads
Antimicrobial Towelettes
Surgical Lancets
Hand Sanitizer
Chux Pads
Ziplock Bag
Bandages
In the past, all of these items had to be purchased separately. That meant dealing with the hassle of multiple SKUs and wasting a significant amount of storage space with dozens of different boxes. All that plus worrying about if the supplies would work with the chosen cholesterol screening system!
Now, it's all so much easier. That's because New Line Medical created a Universal Cholesterol Screening Kit! A far cry from worrying about purchasing numerous supplies, this kit contains everything needed to test 100 people. Better yet: it's all contained in one 8 x 8 x 4" box!
In essence, this Universal Cholesterol Screening kit makes employee cholesterol screening easy and convenient for employee wellness advocates and coordinators.
With everything made so simple, it's not a question if a corporate wellness program should include cholesterol screening… it's a question of if they can afford not to!
To purchase universal cholesterol screening kits at an affordable price, visit New Line Medical online at www.newlinemedical.com or call 800-452-8909 for pricing information.