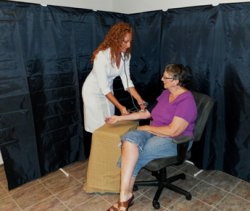 Corporate wellness programs are essential for businesses looking to improve employee productivity, lower absenteeism and control insurance costs. A big part of any complete corporate wellness program is employee screening. For proper employee testing, portable privacy screens are a must!
A portable privacy screen, also known as a portawall, provides a discrete and comfortable environment for corporate wellness screening. Interested in purchasing a portable privacy screen?
New Line Medical provides portawalls and other corporate screening solutions. Call 800-452-8909 or visit our Portable Privacy Screen page for more information.
What is a Portable Privacy Screen?
Portable medical privacy screens are used to provide a safe, enclosed space where health testing and screening can occur. This makes it an ideal solution for corporate wellness programs where a separate testing location is not available or viable.
Portable privacy screens can be used for:
This list represents just a small portion of the reasons why a portawall may be used. Portable privacy walls are important for maintaining not just privacy, but a sanitary environment for corporate wellness screening as well.
How do Portable Privacy Screens Work?
Medical portawalls are a versatile solution, as they can be adapted to fit nearly any size space. Each privacy screen is made up of several components, including:
Each of these components can be purchased together, but if one of them is damage the entire set does not need to be replaced. Instead, individual frames, screens and bags can be purchased. This allows any corporate wellness program to keep costs down.
Set-up of a portable privacy screen is simple and takes just minutes. Furthermore, this inexpensive solution folds down easily, making it ideal for transferring from one location to another.
To purchase portable privacy screens at an affordable price, visit New Line Medical online at www.newlinemedical.com or call 800-452-8909 for more information.