Loading Cart...
Call Us Today - 800-452-8909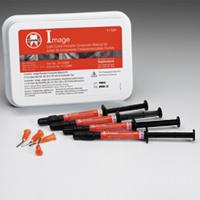 Light activated, high viscosity flowable composite designed for use in class III and V restorations, and select IV aesthetic restorations. Its high viscosity makes it easy to place and finish.
Stackable
Quick Curing
Contains Fluoride
Hybrid Strength with microfill polish-ability
High radiopacity - easy to distinguish in x-rays
Listed in the 2008 "Buyers Guide - Best Product of the Year"
from a reputable evaluation non-Profit Institute.
(4-2gm Syringe Shades A2, A3, A3.5, B3 + 20 tip)
For professional use only. This product cannot be purchased for personal or home use.
Image Flow Composite A1 (4-2gm Syringe + 20 tips)
[ ND041-01-C2061 ]
Image Flow Composite A3 (4-2gm Syringe + 20 tips)
[ ND043-01-C2064 ]
Image Flow Composite A3.5 (4-2gm Syringe + 20 tips)
[ ND044-01-C2066 ]
Image Flow Composite A2 (4-2gm Syringe + 20 tips)
[ ND042-01-C2062 ]
Image Flow Composite B1 (4-2gm Syringe + 20 tips)
[ ND045-01-C2067 ]
Image Flow Composite B3 (4-2gm Syringe + 20 tips)
[ ND046-01-C2068 ]
Image Flow Composite C1 (4-2gm Syringe + 20 tips)
[ ND047-01-C2071 ]