Loading Cart...
Call Us Today - 800-452-8909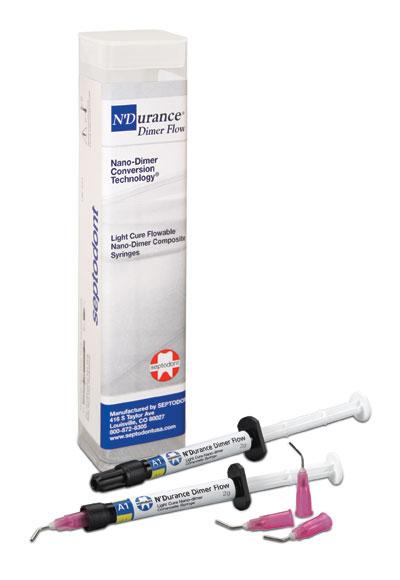 N'Durance Dimer Flow Composite by Septodont
Septodont N'Durance Dimer Flow Composite is a light cured, low shrinkage, flowable restorative material with the nano technology and proprietary dimer acid chemistry found in N'Durance composite.
Septodont N'Durance Dimer Flow Features:
High conversion BUT low shrinkage for deeper polymerization with less chance of post-operative sensitivity and micro-leakage from bonding failures.

Medium viscosity for ease of handling.

Highly radiopacity to easily distinguish the restoration.

Outstanding esthetics with 6 of the most popular Vita® shades plus Bleach White and Universal Opaque
For professional use only. This product cannot be purchased for personal or home use.
N Durance Dimer Flow Tips (25ct)
[ ND068-01C3079 ]
N Durance Dimer Flow A1
[ ND060-01C3080 ]
N Durance Dimer Flow A2
[ ND061-01C3081 ]
N Durance Dimer Flow A3
[ ND062-01C3082 ]
N Durance Dimer Flow A3.5
[ ND063-01C3083 ]
N Durance Dimer Flow B1
[ ND064-01C3084 ]
N Durance Dimer Flow C2
[ ND065-01C3085 ]
N Durance Dimer Flow Opaque
[ ND066-01C3086 ]
N Durance Dimer Flow (Bleach)
[ ND067-01C3087 ]