Loading Cart...
Call Us Today - 800-452-8909


Go the distance®...
Durable nanocomposite polisher that does not crumble.
After independent testing with competitive polisher brands, results confirm Gazelle polishes to the highest gloss value for today's nanocomposite.

♦ Durabletolast—flexibletorefine.
♦ Strong and durable – will not break down during use.
♦ Hi-Gloss polishes to a super high shine.
♦ Polish nanocomposite without crumbling.
♦ Individually sterilized, ready to use packets.

On your next restoration, choose the polisher that provides the flexibility, durability, gloss, and convenience.
Choose Gazelle and "Go the distance..."

Simple. With Gazelle, polishing is an easy 1- or 2-step system depending on your preference to matching the gloss value of adjacent teeth.
Step 1: Gazelle Satin
The Satin polisher is a clinical workhorse for everyday restoration. A quick solution to leave a smooth, satin surface, utilizing aluminum oxide in the silitec process.

♦ Removessurfacestriationsandanatomicaldefects.
♦ Leavesasmooth,satinglosssurface.
Step 2: Gazelle Hi-Gloss (Optional)

The Hi-Gloss polisher is for the most demanding esthetic restoration. A quick solution to leave a smooth, lustrous surface utilizing diamond particles in the Silitec process.

♦ Leavesaliquidlustergloss.
♦ Idealforanteriorrestorations.
Instructions for Use
G

azelle

Satin

: apply light pressure.

G

azelle

Hi-Gloss:

apply feather light pressure. Max speed 5,000 rpm.*

Use no polishing paste.

Rinse and dry.

For single-patient-use.

*Avoid long periods of applied pressure as heat generation can cause damage to the margins. Apply water spray to cool if needed.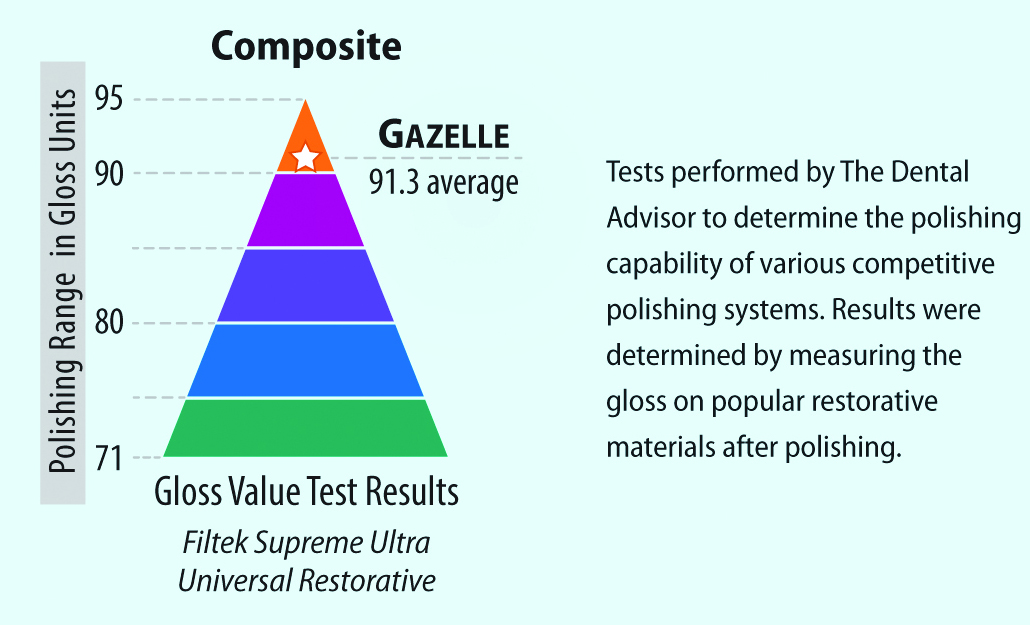 Combo Polisher - Cup (7 Satin, 3 Gloss) (Sterile, Single-Use)
[ A5020-COMPCUPCOMBO ]
Combo Polisher - Disc (7 Satin, 3 Gloss) (Sterile, Single-Use)
[ A5022-COMPDISCCOMBO ]
Combo Polisher - Point (7 Satin, 3 Gloss) (Sterile, Single-Use)
[ A5021-COMPPOINTCOMBO ]
High Gloss Polisher- Cup (Sterile, Single-Use) (10ct)
[ A5010-COMPCUP2 ]
High Gloss Polisher- Disc (Sterile, Single-Use) (10ct)
[ A5012-COMPDISC2 ]
High Gloss Polisher- Point (Sterile, Single-Use) (10ct)
[ A5011-COMPPOINT2 ]
Satin Polisher- Point (Sterile, Single-Use) (20ct)
[ A5001-COMP20POINT1 ]
Satin Polisher- Disc (Sterile, Single-Use) (20ct)
[ A5002-COMP20DISC1 ]
Satin Polisher- Cup (Sterile, Single-Use) (20ct)
[ A5000-COMP20CUP1 ]