Loading Cart...
Call Us Today - 800-452-8909
Microcyn HOCl Technology
Microcyn is a stable, highly efficacious pH-neutral wound irrigant based on the science of hypochlorous acid (HOCl). HOCl is a highly efficient, antimicrobial agent that is generated by human cells as a defensive agent.
Antimicrobial Properties
HOCl, an ingredient in Microcyn, is 70 times more efficacious than the active ingredient in bleach, sodium hypochlorite.
Microcyn is broad spectrum and rapidly antimicrobial, effective against viruses, fungi and spores via unique mechanism of action.
Biocompatible and as safe as saline.Biocompatible and Non-Toxic
Clinically, Microcyn is a biocompatible wound irrigant that is stable, non-toxic, non-cytotoxic, and non-irritating with antimicrobial properties.
Microcyn is very efficacious at levels of free available chlorine (FAC) below the point at which toxicity begins.
Microcyn® Professional Dental Products
EndoGenix Endocyn Irrigant
16.9 oz (500 ml) with Sling Label for Hanging and Venting Spike Rubber Cap
In-Office Use
• Irrigant in hanging bottle.
• FDA cleared.
OroGenix Oral Hygiene Rinse with Microcyn
• 16.9 oz (500 ml) with Dispensing Cup
At-Home Care
• Oral hygiene rinse.
OroGenix Tooth Gel
4 oz with Squirt Cap
At-Home Care
• Non-fluoride tooth gel for brushing and oral care.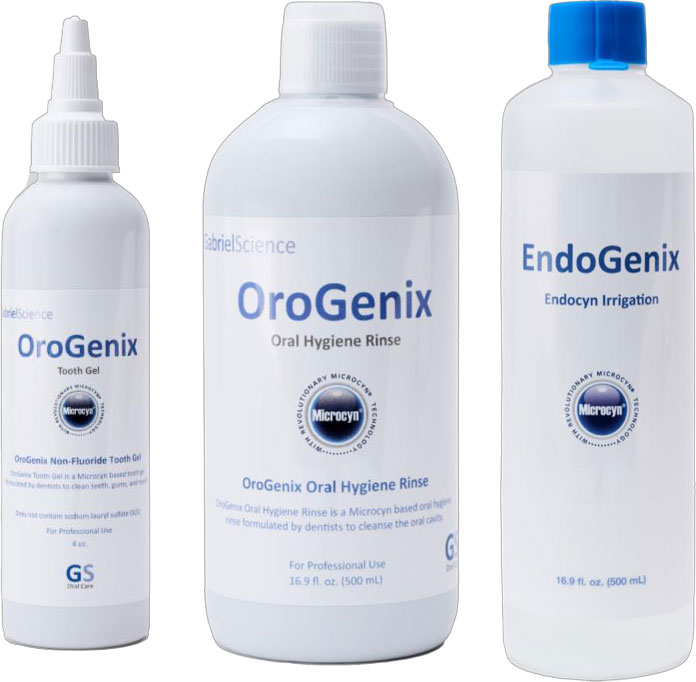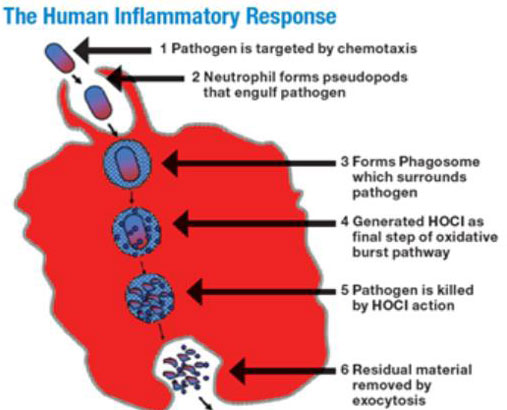 Hypochlorous Acid (HOCI) and the Human Inflammatory Response
In phagocytosis, HOCI is present in the phagosome at about 300 ppm.
HOCI at concentrations on the order of 300 ppm been shown to be safe in irrigants - wound cleaners
Neutrophils can chemically sense pathogens in their immediate environment via biochemical signaling methods and direct contact, resulting in phagocytosis of the pathogen.
The pathogen is engulfed into an intracellular structure (phagosome), followed by biochemical reactions within the phagosome including the intracellular production of HOCI.
Rapid pathogen destruction ensues secondary to pathogen cell wall destruction and essential internal protein disruption.
Pathogen debris is ejected from the neitophil along with some HOCI
Documents:
Orogenix Antiplaque Tooth Gel (3oz) 12/Case
[ GS033-200-1003 ]
| | | |
| --- | --- | --- |
| | Call for Pricing 800.452.8909 | |
Orogenix Oral Hygiene Rinse (500ml 16.9 oz) w/Dispensing Cup 12/Case
[ GS031-200-1001 ]
| | | |
| --- | --- | --- |
| | Call for Pricing 800.452.8909 | |
EndoGenix Endocyn Irrigant (500ML,12/Case)
[ GS002-2000-1004 ]
| | | |
| --- | --- | --- |
| | Call for Pricing 800.452.8909 | |