Loading Cart...
Call Us Today - 800-452-8909
Why the One-Step PLUS safety lancet is superior:
Improved:

Patented new design makes the One-Step PLUS, a better safety lancet than ever before. The improved delivery system makes blood sampling quicker, easier and more comfortable

for the patient.

Simple:

No arming is required. Lancets are color-coded for easy recognition.

Safe:

The One-Step PLUS safety needle or blade lancet is safely concealed before and after use

Innovative:

The One-Step PLUS safety lancet patented design makes blood sampling the easiest and safest method. Once the lancet is used, it is rendered inoperable providing added safety for patient and clinician.

Efficient:

The improved high-speed delivery and penetration method minimizes patient pain

and clinician error.

Latex Free:

The One Step PLUS is hypo-allergenic.
100 per box
SurgiLance 18G - 2.3mm (100ct) (Blue)
[ 919B-SLB250 ]
| Qty: | Price: |
| --- | --- |
| 1-2 | $17.55 |
| 3+ | $15.75 |
SurgiLance 21G - 2.8mm (100 ct.) (Pink)
[ 919-SLN300 ]
| Qty: | Price: |
| --- | --- |
| 1-2 | $16.00 |
| 3+ | $14.75 |
Medlance® plus safety lancets are used to obtain capillary blood samples for various diagnostic purposes including blood glucose, cholesterol, hemoglobin, CRP-tests, blood gas, HIV, electrolytes, blood group tests, fungal infection, multiple tests on neonates. Medlance® plus lancets have been designed as an integral component to the sharps-injury prevention programs in hospitals, clinics, laboratories, doctors' offices and wherever patients and professionals need to feel safe.
200 per box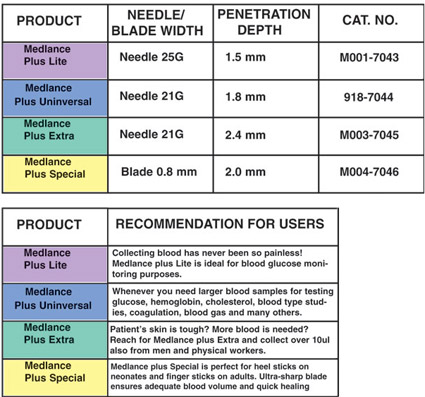 Medlance Plus Lite (200ct)
[ M001-7043 ]
Medlance Plus Universal (200ct)
[ 918-7044 ]
Medlance Plus Extra (200ct)
[ M003-7045 ]
Medlance Plus Special (200ct)
[ M004-7046 ]