Loading Cart...
Call Us Today - 800-452-8909
When they need CPR, you need ZOLL.
Confidence that comes only from real
CPR
help.
Key Advantages of the

ZOLL AED Plus
Step-by-step support for the entire Chain of Survival. The
ZOLL AED Plus
gives even infrequent rescuers the confidence they need to help save lives. Simple audio prompts and pictures reinforce every step in the resuscitation process.
On-Site Set up and In-Service
- A local ZOLL representative will provide an in-service for you and your staff right in your office.
Real CPR Help
- Real-time feedback for rate and depth of chest compressions during CPR. The AED Plus is the only AED that
sees
what the rescuer is doing during CPR and provides audio and visual prompts for PUSH HARDER and GOOD COMPRESSIONS.
Lowest Cost of Ownership
- Once installed, there is nothing to purchase or replace for the AED Plus for five years, as the consumer batteries and one-piece CPR-D-padz Electrode have a five-year shelf-life.
Zoll AED Plus Package Includes:
1 Zoll AED Unit
1 Adult CPR mask with filter and case
1 Carrying Case
1 Adult & 1 Pediatric Pad
Features:
Guidelines 2005 Complaint
5 Year shelf life on pads
As guidelines change or updates are available the AED Plus can be upgraded at the doctor's office with a simple download from a CD/internet through the IR port.
Made in the USA
Rugged design that resists dust and direct water (IP55 rating)
Uses off-the-shelf lithium camera batteries
7 year warranty clearly demonstrates the reliability of this quality unit
Supports the entire Chain of Survival, with easy-to-understand audio prompts and visual icons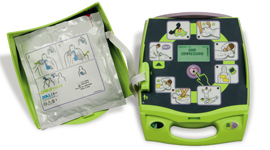 Zoll CRP - PED DPADS
[ Z15-8900-0810-01 ]
Zoll CRP - ADULT DPADS
[ Z10-8900-0800-01 ]
Zoll AED Plus Package
[ Z1-21000010102011010 ]