Loading Cart...
Call Us Today - 800-452-8909
New From Tanita -
TBF-400 Body Composition Monitor
Industry's leading 600 lb weight capacity!
The TBF-400 features an industry's leading weight capacity of 600 lb (270 kg). The new oversized, low-profile platform is ideal for weighing the elderly and obese. And the user friendly LED lamp guided navigation make programming a simple operation. In less than 10 seconds a detailed analysis is provided on the built-in thermal printer, no need for special forms to keep cost of ownership low. Printed readings include Weight, Body Fat %, Fat Mass, Fat Free Mass, Water Mass, Basal Metabolic Rate, and Body Mass Index. Convenient indicator lights and graphs help the provider review the results. The TBF-400 can be configured as a portable model, or with a column kit to present a more clinical design.
EMR ready with multiple outputs, including RS-232, USB and SD card. When used with Tanita HealthWare Software (sold separately) the body composition data from the TBF-400 can be stored on PC to provide custom data recording, tracking, and analysis for an unlimited number of users.
(Comes packaged with an AC adapter 7V)
For medical professional use only.

This product cannot be purchased for personal or home use.
Analyzer / Scale
[ 843-TBF-400 ]
| | | |
| --- | --- | --- |
| | Call for Pricing 800.452.8909 | |
Tanita Paper Rolls
[ 847-TP300 ]
| | | |
| --- | --- | --- |
| | Call for pricing 800.452.8909 | |
Tanita Carrying Case
[ 846-C300 ]
| | | |
| --- | --- | --- |
| | Call for pricing 800.452.8909 | |
seca mBCA 514
Medical Body Composition Analyzer
Fast and easy assessment of body composition, e.g., fat mass and body water.
Six modules for varied analysis of measurement data.
Medically precise, validated against gold standard measurement results.
Network-compatible with seca 360° wireless technology.
Simple and convenient entry and read-out of results on swiveling touch-screen display.
Electrodes on handrail give patients a firm stance and ensure reproducible results.
Integrated scale with a weighing capacity of up to 660 lbs.
seca mBCA 514:
A body composition analyzer that delivers medically precise results.
The medical Body Composition Analyzer (mBCA) from seca breaks down weight into several compartments that are important for medical purposes. The seca mBCA 514 is a medical body composition analyzer validated against the gold standard recognized by medical science.
Technical Data
More Details
Sales Brochure
User Manual
Seca Analytics 115
Medical PC Software for Professional Body Composition Analysis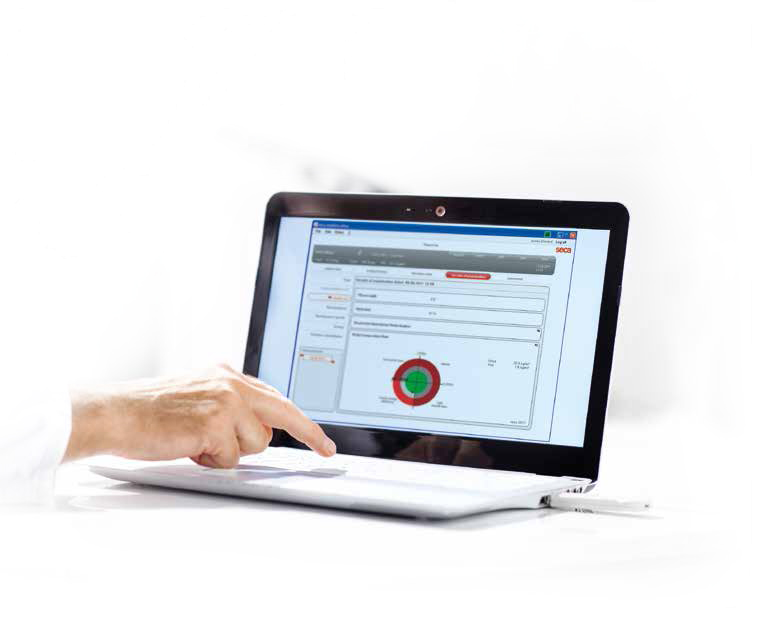 PC software to supplement seca mBCA
Creates graphic presentation of examination results for screen display or printout.
For wireless reception of measurements from all seca 360° wireless devices.
Configurable software interface for integration in Electronic Medical Record (EMR) system (EMR-integrated).
Offers additional cardio- metabolic risk module, trend analysis and much more.
seca analytics 115:
Easy to integrate in hospital, medical practice and all Electronic Medical Record (EMR) systems.
The PC software seca analytics mBCA 115 adds several functions to the seca mBCA. With these functions data and measurements can be integrated in almost any Electronic Medical Record (EMR) system and formatted in a clear printout for the doctor to use in a patient consultation.
All the advantages of the seca analytics 115 at a glance
Set up your PC so that it can wirelessly receive the measurements of the seca mBCA and other seca 360° wireless devices.
Acquire the Cardiometabolic risk and the detailed Raw impedence data module for science and research, additional interpretation options, trend curves and the therapy planner.
Generate easy-to-understand graphic presentations and print them out for your files or for your patients.
Store all patient and examination data in a central seca database.
Take the first step toward electronic medical records with EMR integrated.
With the necessary security, thanks to simple user account management and access rights.
Scientifically sound:
The seca mBCA and the PC software seca analytics 115 consider the following reference values for the analysis and interpretation of measurements:
Total Body Water (TBW): seca 2011
Extracellular Water (ECW): seca 2011
Fat Mass (FM): Gallagher et al. 2000
Fat-Free Mass (FFM): seca 2011
Bioelectrical Impedance Vector Analysis (BIVA): Piccoli et al. 1994 (illustration), seca 2011 (reference values)
Fat Mass Indices (FFMI/FMI): Piccoli et al. 1994 (illustration), seca 2011 (reference values)
Skeletal Muscle Mass (SMM): Kim et al. 2002
Percentile charts for children: Centers for Disease Control and Prevention (CDC) 2000, World Health Organization (WHO) 2007, Kromeyer-Hauschild et al. 2001
Waist circumference for children: Fernandez et al. 2004, Inokuchi et al. 2007
Resting energy expenditure for children: Müller et al. 2004
Resting energy expenditure for adults: Müller et. al. 2004, Liu et al. 1995, Food and Agriculture Organization of the United Nations (FAO)/WHO/United Nations University (UNU) 2004
Metabolic syndrome: International Diabetes Federation (IDF) 2006, National Cholesterol Education Program – Adult Treatment Panel III (NCEP-ATP III) 2001
10-year risk of coronary heart disease: Framingham Score, Wilson et al. 1998, Prospective Cardiovascular Münster (PROCAM) Assmann et al. 2002, SCORE Conroy et al. 2003
Seca analytics 115 System requirements
:
Supports operating systems: Windows XP (SP3), Windows Vista (SP1), Windows 7, Windows Server 2003 (SP2) and Windows Server 2008 R1 (SP2)
Processor: 1.2 GHz or higher
Required available hard disk space: minimum 1 GB
Required available RAM: minimum 512 MB RAM
Peripherals: DVD drive
Ports: For use with seca devices USB 2.0 or serial interface (RS232)
Monitor: 1024x768, High Color (16-bit), 32-bit (recommended)
More Details
MBCA 514 (Medical Body Composition Analyzer)
[ MBCA514 ]
| | | |
| --- | --- | --- |
| | Call For Pricing 800.452.8909 | |
The HBF-510W provides Full Body Sensing – a comprehensive understanding of your body composition to help you reach your fitness goals. Easy to use, the HBF-510W measures 5 fitness indicators including body fat, visceral fat, BMI, skeletal muscle, and body weight.
Full Body Sensing, with hand-to-foot technology is more accurate than foot-to-foot monitors
Measures 5 Fitness Indicators: Body Fat Percentage, Body Mass Index (BMI), Skeletal Muscle, Visceral Fat, and Body Weight
4 Person Profile
Easy on/off switch at base
Large LCD display
Retractable Cord
Includes monitor and scale, 4 AA batteries and instruction manual.
Omron HBF-510W
[ MP260-HBF-510W ]