Loading Cart...
Call Us Today - 800-452-8909
D-Lish prophy paste now has the de-licious flavors or the Fresh Strawberries, Dreamsicle Orange, Cocoa Mint, Berry Mint and Cinnamon Mint. These new mint flavors come in an assorted package called Mint Jubilee Assortment.
200 per bag
Mint Coarse
[ Y026-300010 ]
Mint Medium
[ Y027-300120 ]
Assrt. Coarse
[ Y034-304320 ]
Asst. Medium
[ Y035-304120 ]
DEFEND+PLUS Prophy Paste contains balanced ingredients for a smooth, pliable and splatter-free formula that delivers superior polishing and stain removal properties yet is gentle to enamel. Gluten-free to assure against allergic reaction, DEFEND+PLUS prophy paste also contains 1.23% fluoride ion. Available in four great tasting flavors: mint, cherry, vanilla/orange, and bubble gum. Easily rinses clean with water. Unit dose cups, 200 per package.
Provides 1.23% active fluoride ion
Superior stain removal with minimal enamel loss
Gluten-free
Splatter-free
Defend Plus Prophy Paste (Assorted Coarse)
[ DEF400-PP-3000 ]
Defend Plus Prophy Paste (Mint Coarse)
[ DEF401-PP-3100 ]
Defend Plus Prophy Paste (Assorted Medium)
[ DEF406-PP-3400 ]
Defend Plus Prophy Paste (Mint Medium)
[ DEF407-PP-3500 ]

Prophy Paste
Zooby Prophy Paste features an optimal formulation of abrasives and adhesive properties designed for low splatter and great stain removal. Zooby paste contains xylitol and 1.23% fluoride! The Zooby Prophy Paste line includes six delicious gluten-free flavors available in fine, medium and coarse grits, which can be purchased separately or in an assortment pack.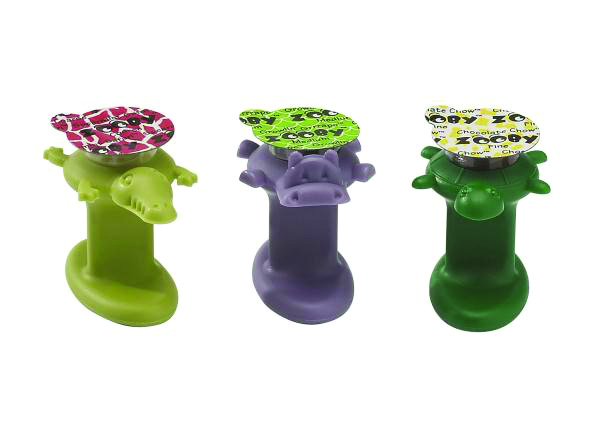 Zooby Prophy Paste Cup Grippers - 3 Pack® Every bag of paste contains a special auto- clavable Zooby Animal prophy paste gripper. Zooby® Prophy Paste Animal Grippers will hold your prophy paste cup during hygiene polishing procedures. The grippers come in 3 different animal designs: Alligator, Hippo, and Turtle, and feature a wide base so they are easy to hold. They can even be autoclaved for repeated use!
100 Per Box
Turtle Melon (COARSE)
[ Y118-606010 ]
Assorted (FINE)
[ Y102-600210 ]
Growlin Grape (FINE)
[ Y108-602210 ]
Zooby Prophy Paste Grippers (3 pk)
[ Y121-379003 ]
Assorted (COARSE)
[ Y100-600010 ]
Spearmint Safari (MEDIUM)
[ Y104-601110 ]
Happy Hippo Cake (COARSE)
[ Y109-603010 ]
Chocolate Chow (COARSE)
[ Y112-604010 ]
Spearmint Safari (COARSE)
[ Y103-601010 ]
Turtle Melon (FINE)
[ Y120-606210 ]
Assorted (MEDIUM)
[ Y101-600110 ]
Happy Hippo Cake (FINE)
[ Y111-603210 ]
Spearmint Safari (FINE)
[ Y105-601210 ]
Gator Gum (COARSE)
[ Y115-605010 ]
Gator Gum (MEDIUM)
[ Y116-605110 ]
Gator Gum (FINE)
[ Y117-605210 ]
Happy Hippo Cake (MEDIUM)
[ Y110-603110 ]
Growlin Grape (COARSE)
[ Y106-602010 ]
Growlin Grape (MEDIUM)
[ Y107-602110 ]
Turtle Melon (MEDIUM)
[ Y119-606110 ]
Chocolate Chow (FINE)
[ Y114-604210 ]
Chocolate Chow (MEDIUM)
[ Y113-604110 ]