Loading Cart...
Call Us Today - 800-452-8909
H. Pylori Testing (Helicobacter Pylori)
RELYTM H. pylori
Rapid Test
Provides simple, fast and cost-effective detection of H. pylori, helping to lower the risk of developing a more serious illness

After a brief and transient clinical illness, H. pylori infections are asymptomatic, yet clinical trials have demonstrated that H. pylori is associated with 90% of patients with duodenal ulcer and approximately 80% of those with gastric ulcer. 1

Enhanced sensitivity
87%
Specificity
86%
Reliable
Procedural and external controls provided
Procedural steps
Two step test provides results in 10 minutes
Sample
Whole blood (fingerstick or venipuncture), serum or plasma
Easy-to-use
CLIA waived, requires minimal training Waived: Whole blood
Non-waived: Serum and plasma
Cost effective
Convenient room temperature/refrigerated storage and extended dating help manage inventory during seasonal shifts in testing
Storage: 2-30°C (36-86°F)
Shelf life: 18 Months from date of manufacture

Easy and reliable detection of H. pylori means enhanced patient outcomes
Minimizes the use of inappropriate treatment protocols

Early detection and effective management of H.pylori reduce patient vistis and cost of clinical follow-up

Helps lower the risk of developing a more serious illness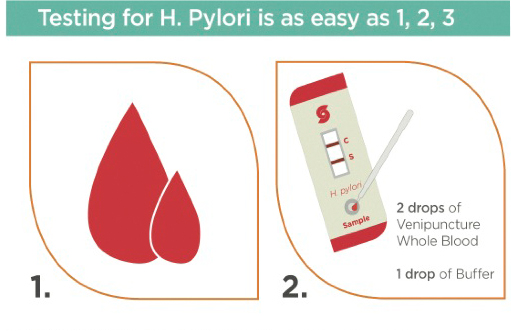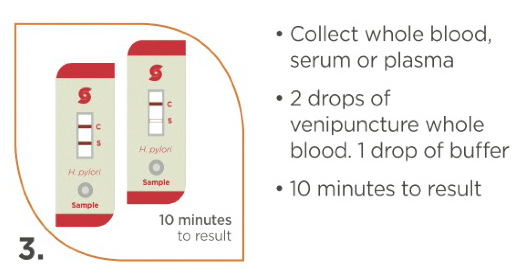 Symptoms of H. pylori Infection
Belching

Bloating

Nausea, Vomiting

Abdominal Pain

Fatigue

Heartburn
Documents:
RELY H, Pylori Product Insert
RELY H. Pylori Sales Flyer
Rely - H. pylori Rapid test
[ ST200-6300-020 ]
| | | |
| --- | --- | --- |
| | Call for Pricing 800.452.8909 | |
Clearview® H. pylori
Clearview® H. pylori is a rapid chromatographic immunoassay test for use with whole blood, serum, or plasma used to detect antibodies to H. pylori and to aid in diagnosing H. pylori infection.
Benefits:
Accurate and sensitive: Clearview® H. pylori detects H. pylori with 93 percent sensitivity and 90 percent accuracy

Rapid: The test yields results in 10 minutes

Convenient: The test is simple to use and interpret and includes a reliable, built-in assay control

Flexible: can be used with serum, plasma or whole blood
Specifications:
Sensitivity 93%

Specificity 89.2%

Accuracy 90.7%

CLIA-waived (US only)

Storage at room temperature

Kit Size=20 tests
Links:
Product Insert
For medical professional use only.

This product cannot be purchased for personal or home use.
30 tests/bx.
[ 874-6706KCV ]